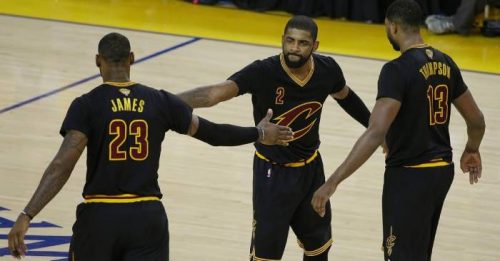 The 2016 NBA Finals just keeps getting more and more entertaining! Last night in Oakland, Cleveland Cavaliers stars LeBron James and Kyrie Irving put on a show both dropping 41 points in a must win Game 5 to extend the 2016 NBA Finals.
With Warriors star Draymond Green watching from the Oakland A's baseball stadium across the parking lot from Oracle Arena due to a one game suspension, the Cavs defeated the Golden State Warriors (112-97) and we will have Game 6 on Thursday evening in Cleveland.
LeBron James finished the game with 41 points 16 rebounds and 7 assist and Kyrie Irving finished the game with 41 points shooting over 70 percent from the floor. For the Warriors, Klay Thompson finished the game with 37 points and NBA MVP Stephen Curry had 25 points. Checkout a few highlights from Game 5 of the 2016 NBA Finals below.
Coverage of Game 6 kicks off at 8:30pm EST on ABC. Stay tuned to HHS1987 for all your NBA Finals news. Follow @eldorado2452 on Instagram and Twitter for all your sports news.
© 2016, Eldorado2452. All rights reserved.