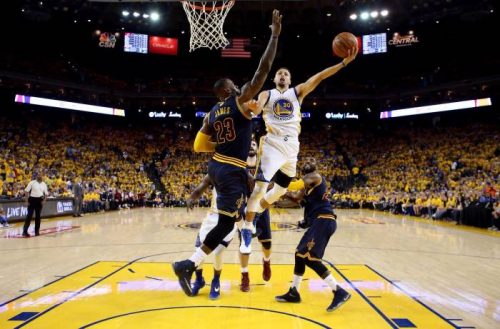 Things are looking good for NBA MVP Steph Curry and the Golden State Warriors. Last night, the Warriors defeated the Cleveland Cavaliers (110-77) in Game 2 of the NBA Finals and they lead the 2016 NBA Finals (2-0). The Golden State Warriors were lead by all-star Draymond Green who finished the game with 28 points. Steph Curry added 18 points in 24 minutes of play and Klay Thompson added 17 points in 31 minutes.
For the Cavs, Lebron James seemed to be the only player who came to perform. Lebron James finished the game with 19 points, 8 rebounds and 9 assist. The Warriors are on a 7 game winning streak against the Cavs including the 2015 NBA Finals.
Checkout a few highlights from Game 2 of the NBA Finals below. Game 3 of the 2016 NBA Finals tips off Wednesday at 9pm. Follow @eldorado2452 for all your sports news.
© 2016, Eldorado2452. All rights reserved.