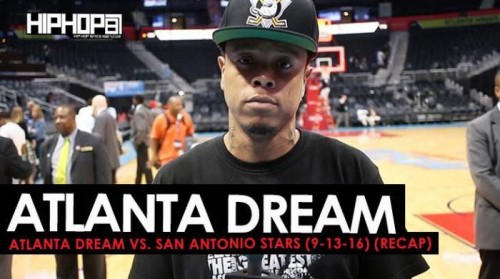 Tuesday night the Atlanta Dream suffered a tough loss at the hands of the San Antonio Stars (71-67). The Atlanta Dream have clinched a berth in the 2016 WNBA Playoffs and remain as the current No. 5 seed despite Tuesday's loss. Dream star Angel McCoughtry missed Tuesday's game while serving a WNBA one-game suspension for passing the season technical foul accumulation limit. The Dream also played without the services of Sancho Lyttle who missed her third straight game while nursing a sore foot.
Rookie center Rachel Hollivay made her first career start in Tuesday's game versus San Antonio and she was huge on the glass. Rookie Bria Holmes has for double-figure points in eight of her nine starts in her rookie season and in three of her last four games overall. Tuesday night Bria Holmes played the best game of her young WNBA career a career-best 20 points in Tuesday's defeat vs. San Antonio.
The Atlanta Dream are back in action on Thursday night (Sept 14th) as they host the Washington Mystics for Fan Appreciation night, the Dream's final home game of the 2016 WNBA season before the 2016 WNBA playoffs begin.
The recap was shot and edited by Danny Digital. The game was covered by Terrell Thomas (Eldorado).Stay tuned to HHS1987 for more WNBA news. Follow @eldorado2452 on Twitter and Instagram for all your Atlanta Dream and sports news.
Follow on Twitter/Instagram:
@AtlantaDream
@Eldorado2452
@HipHopsince1987
@DannyDigitall
© 2016, Eldorado2452. All rights reserved.