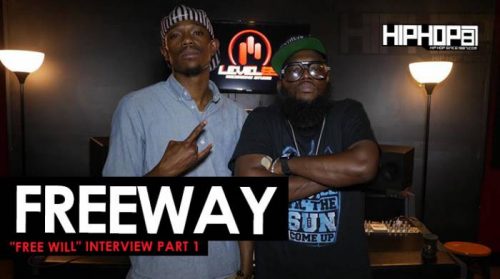 Hip-Hop legend, Freeway, just dropped his latest project "Free Will" and took time to kick it with our own E-Money for a new interview. After recovering from kidney failure last year, you would think Free would take a step back but this isn't the case as Free Will is out in the world and building a great buzz. In part one of our interview, Freeway breaks down who he worked with on the project feature and production-wise. All of a sudden, he spits an impromptu freestyle bringing back the nostalgia of a rapper spitting straight bars. As they get back to the interview, we learn what he's been through and the progression from his debut album until now. The veteran emcee is currently on a transplant list to have his kidneys replaced and has brought major awareness to health in the Black community. Moving forward, the Philly Freezer is now completely independent and reflects on the differences in pushing his music with and without a major label.
This video was shot and edited by HHS1987's own Rick Dange.
Follow Us on Twitter/Instagram:
@PhillyFreezer/@PhillyFreeway
@HipHopSince1987
@EmoneyBeatz/BeatEmUpMoney
@RickDange
© 2016, RickDange. All rights reserved.