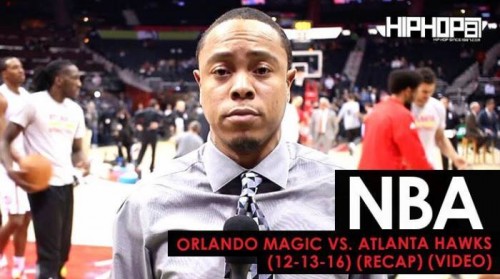 The Atlanta Hawks are now (12-13) after suffering a (131-120) lost to the now (11-15) Orlando Magic.
The Hawks were coming off of a two game winning streak and were looking to make it three after facing the Magic. The Magic had other plans. For the Atlanta Hawks, Dwight Howard continue to be a force in the paint, it just wasn't enough. Howard finished the night with 20 points and 16 rebounds. Dennis Schroder was also big for the Hawks on Tuesday night. Schroder finished the game with 19 points and 13 assist. Both Thabo Sefolosha and Paul Millsap finished the night with 17 points.
The Orlando Magic were rolling offensively all night long on Tuesday evening. The Magic scored 72 first half points and they never slowed down. Serge Ibaka was the leading scorer for the Magic finishing with 29 points on (11-18) shooting. Point guard Elfrid Payton was (3-3) from three point land and he fished with 26 points and 14 assist off the bench. Evan Fournier followed that up with 23 points on (11-15) shooting and Jeff Green finished with 18 points.
The Atlanta Hawks are back in action on Friday night as they head to Canada to face the Toronto Raptors. The Hawks will be back home at Philips Arena as they host the Charlotte Hornets on Ryan Cameron night. Stay tuned to HHS1987 for more NBA news. Follow @eldorado2452 on Twitter and Instagram for all your Atlanta Hawks sports news.
Follow on Twitter/Instagram:
@ATLHawks
@Eldorado2452
@HipHopSince1987
@DannyDigitall
© 2016, Eldorado2452. All rights reserved.