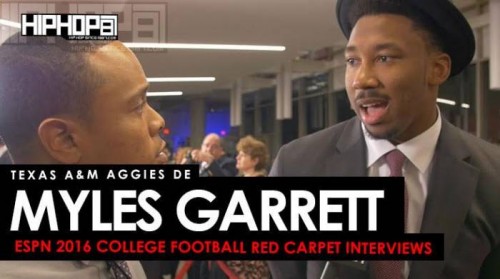 On Thursday December 8th, the 2016 Home Depot College Football Awards on ESPN took place in Atlanta and some of the nation's most talented athletes were in attendance. As College Football's biggest stars had a chance to celebration their personal accomplishments in the ultimate team sport, we caught up with Texas A&M Aggies DE Myles Garrett.
Texas A&M Aggies stat Myles Garrett was nominated for the Chuck Bednarik Award for the College Defensive Player of the Year. Myles Garrett recorded 8.5 sacks this season for the Aggies after missing 3 games with a ankle injury. While on the ESPN & Home Depot College Football Awards Red Carpet we spoke with Myles Garrett on his season, possibly winning the Chuck Bednarik Award and more.
The interview was conducted by Terrell Thomas. The interview was shot and edited by Antoin Martin.
Follow Us On Twitter/ Instagram:
@MyIesGarrett15
@Eldorado2452
@HipHopSince1987
@DirectorAMartin
© 2016, Eldorado2452. All rights reserved.