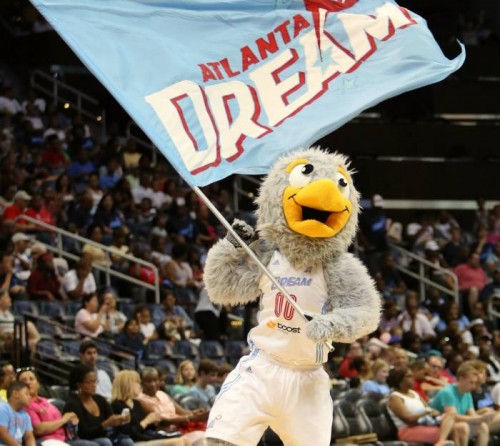 The second half of the 2016 WNBA kicks off this weekend but the Atlanta Dream are keeping us informed on their moves for the 2017 and 2018 seasons.
According to dream.wnba.com, 
he Atlanta Dream will play the 2017 and 2018 seasons at Hank McCamish Pavilion on the campus of Georgia Tech, team officials announced on Monday.

The Dream will be relocating to the 8,600-seat McCamish Pavilion as Philips Arena will not be available.

In addition, any 2016 home playoff contests hosted by the Dream will also be held at McCamish Pavilion, as Philips Arena has multiple conflicting events during the majority of the playoff schedule.

"We are excited to be the host facility for the Atlanta Dream the next two seasons," Georgia Tech Senior Woman Administrator and Associate Athletic Director Joeleen Akin said. "Georgia Tech has an opportunity to increase awareness of the Institute while showcasing its first-class basketball facility. Our goal is to provide the Dream players, staff and fans the best home court experience possible."

McCamish Pavilion, formerly known was Alexander Memorial Coliseum, underwent a $50 million renovation in 2011-12 and was renamed in honor of a $15 million donation from the McCamish family. The facility's extensive renovation included reconstruction of the seating bowl, the addition of an upper-level balcony and club seating and the expansion of the concourse and plaza area.

McCamish Pavilion is currently the home of the Georgia Tech men's and women's basketball teams and played host to the NBA's Atlanta Hawks after they moved from St. Louis and waited for the initial construction of The Omni to be completed. Georgia Tech once again was the Hawks temporary home between 1997 and 1999 after The Omni was demolished and while Philips Arena was being built on its site. Most recently, it has served as the home for the 2013 Intersport Three Point/Slam Dunk contest, which was held in conjunction with the NCAA Men's Final Four.

During the 1996 Summer Olympics, the facility hosted the boxing competition and it served as the site for the conclusion of the 2008 Southeastern Conference Men's Basketball Championship after the tournament to be forced to be relocated following a tornado in downtown Atlanta that caused significant damage to the Georgia Dome.

The Dream played three games at McCamish Pavilion in 2014 and a single contest this season – a 93-88 victory over Dallas on July 22. Atlanta owns a record of 3-1 all-time in previous games played at the Georgia Tech facility.
Stay tuned to HHS1987. Follow @eldorado2452 on Twitter and Instagram for all your Atlanta Dream and sports news.
© 2016, Eldorado2452. All rights reserved.