Congratulations to Angel McCoughtry, Maya Moore, Coach Auriemma and Team USA's women's team! Team USA's women's team is bringing home the Gold! Yesterday afternoon, Team USA's women's team defeated Spain (101-72) earning their sixth straight Olympics gold medal.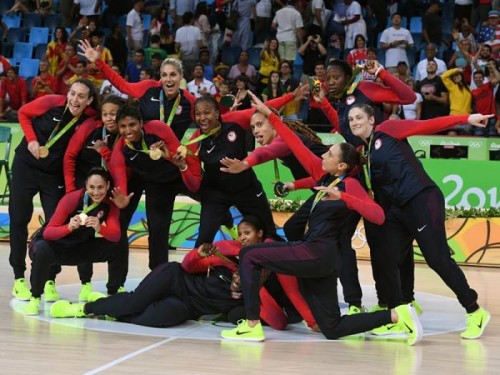 According to WNBA.com, 
The 2016 U.S. Olympic Women's Basketball Team (8-0) rolled to a sixth straight Olympic gold medal and remained undefeated at the 2016 Olympic Games with an impressive 101-72 win over Spain (6-2) on Saturday afternoon at Carioca Arena 1 in Rio de Janeiro.

The U.S. women now have won eight gold medals in Olympic competition, own a 49-game Olympic win streak and an overall record of 66-3 since beginning play in 1976.

Serbia (4-4) beat France (4-4) 70-63 to win the bronze medal.

The game was close for the first 13 minutes before the USA began to pull away. Led by four players in double digit scoring, including Diana Taurasi with 17 points on 5-of-7 shooting from 3-point and Lindsay Whalenwith 17 points and six assists, the USA got 55 points off its bench, outrebounded Spain 51-28 and scored 23 points off of 17 Spanish turnovers.
Follow @eldorado2452 on Twitter and Instagram for all your 2016 Olympic and sports news.
© 2016, Eldorado2452. All rights reserved.