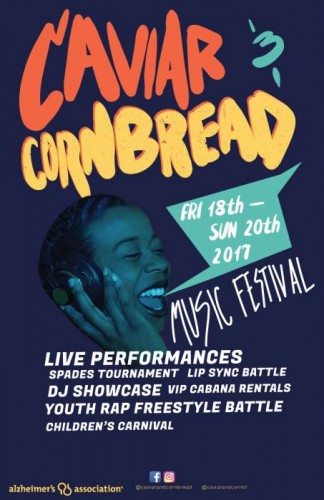 Caviar & Cornbread is a 3-day family-reunion-styled Music Festival set to take place on a privately owned and operated family farm in pastoral Castalia, North Carolina. The objective of this festival is to build a network of like minded musicians, entrepreneurs, and artists that will create opportunities for economic growth and exposure. While growing this coalition of support, Caviar & Cornbread recognized the importance of mentorship between generations, and provides opportunities for such exchange. This music festival is unique, in that it is an interactive family environment featuring diverse music genres. The festival will showcase DJs, live performances, a full southern BBQ grill menu daily, children's carnival, lawn games, spades tournament, and raffle sales. All ages are welcome.
Caviar & Cornbread strives to create a platform for multicultural and generational exchange for independent artists of myriad mediums, small businesses, and families. These efforts are provided through the arts and cooperative economic effort.
Festival Date: August 18-20
—–
2 stages of live performance! DJ Showcases! Hookah Lounge! Children's Carnival! Spades Tournament! Youth Rap Freestyle Battle! Lip Sync Battle! Cornhole Tournament! Silent Auctions! Raffle Sales! & More!
"Caviar & Cornbread is the only fest that I've come across that not only focuses on the music, but the actual artists, families, and community. It's definitely something I want to be a part of!" -Hezekiah, Beat Society Founder, Producer, Artist
—–
[ A portion of proceeds will benefit Nash County school aged children through the W&A Youth Non Profit Organization (5013c) as well as the Alzheimer's Association. ]

 
Ticket Information: https://www.eventbrite.com/e/caviar-cornbread-music-festival-tickets-35469818181
Hotel Information: Comfort Inn Rocky Mount, 200 Gateway Blvd, Rocky Mount NC 27804
——–
Social Handles
 
Twitter | Facebook | Instagram | Website | Tumblr
 
 
 
For further information, press, or any other inquiries, contact [email protected]gmail.com or (757) 759-3147
© 2017, Niyah Nel. All rights reserved.