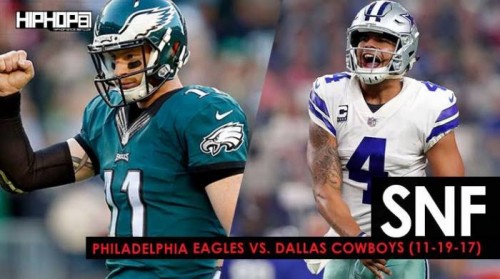 The Philadelphia Eagles have been making statements during their last four games and last night in a division rivalry against the Dallas Cowboys, the Birds made possibility their biggest statement of the season.
Last night in Dallas, the Philadelphia Eagles moved on to a record of (9-1) after defeating the Dallas Cowboys (37-9) on Sunday Night Football. Not only did last night's victory pretty much wrap up the NFC East for the Eagles, if they stay focused and handle their business over the next few weeks, the Eagles could earn the number one seed in the NFC and the 2017-18 NFL Postseason may go though South Philly.
SQUAD#FlyEaglesFly pic.twitter.com/2vFb7ZYDg8

— Philadelphia Eagles (@Eagles) November 20, 2017
The game was tight during the first half of action and the Eagles came out in the second half with a offensive and defensive explosion. After only scoring 7 points in the first half, the Eagles scored 16 points in the 3rd quarter and 14 points in the 4th quarter holding the Cowboys to zero second half points. The Eagles also picked up over 200 yards rushing on the night. Jay Ajayi finished the night with 71 rushing yards, LaGarrett Blount finished with 57 rushing yards.
Offensively, Carson Wentz continued his MVP campaign look like he wants that award. Wentz was (14-27) passing for 168 and 2 touchdowns.
The Dallas Cowboys offense has continued to struggle since the suspension to running back Ezekiel Elliott and the injury to offensive lineman Tyron Smith. Dak Presscott had a QBR (Quarterback Rating) last night of just 30. Dak finished the night passing (18-31) on the night for just 145. After falling to (5-5) on the season, the Cowboys playoff chances are beginning to look very slim.
The Philadelphia Eagles return home this Sunday (Nov.26th) as they host the Chicago Bears. The Bears have struggled this year but they have showed promise at times and can be a challenging matchup for the Eagles. It will be interesting to see how the Eagles offense stacks up against the Bears defense. Stay tuned to HHS1987 for more NfL news. Follow @eldorado2452 on Twitter and Instagram for all your Philadelphia Eagles, NFL and sports news.
© 2017, Eldorado2452. All rights reserved.