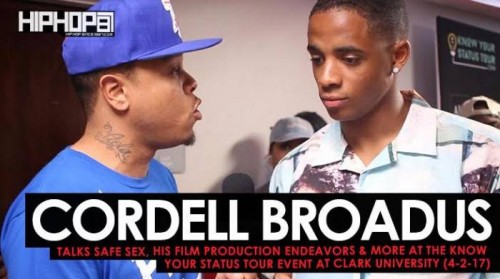 On Thursday April 20th, the "Know Your Status Tour" presented by the AIDS Healthcare Foundation made a stop at Clark University in Atlanta for a star studded panel. The "Know Your Status Tour" is a event that will stop at multiple HBCU's across the country to discuss the importance of safe sex and AIDS education through an open panel and live concerts. Celebrities and influencers such as Amber Rose, Karen Civil, Cordell Broadus, Nina Parker and others have joined the tour to help spread the message.
One of the panelist for the "Know Your Status Tour" was Cordell Broadus. As the son of hip-hop legend Snoop Dogg, Cordell Broadus has seen the entertainment business from a bird's eye view. We caught up with Cordell to speak on the importance of Safe Sex and AIDS awareness events like this and more. Cordell Broadus spoke on his upcoming endeavors in the film business and upcoming business plan with his Dad.
The interview was conducted by Terrell Thomas (Eldorado). The interview was shot by Danny Digital.
Follow On Twitter & Instagram:
@C_Broadus21/ @cbroadus
@KnowYourStatusTour
@Eldorado2452
@HipHopSince1987
@DannyDigitall
© 2017, Eldorado2452. All rights reserved.