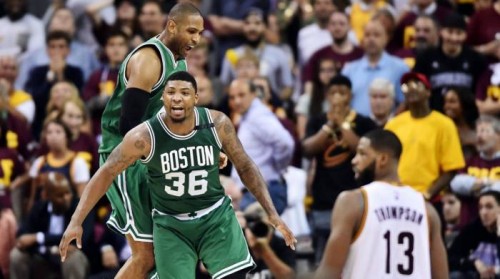 Down 21 points, without their star Isaiah Thomas, no problem. With much of the world counting them out, the Boston Celtics went to Cleveland and picked up a much needed Game 3 victory (111-108).
So far, much of the Eastern Conference Finals matchup has been one sided, largely dominated by the Cleveland Cavaliers. Game 2 was embarrassing for the Celtics who lost by more then 40 points. Celtics star Isaiah Thomas was listed as OUT for the remainder of the playoffs and last night his teammates stepped up their game to take Game 3.
For the Celtics, the player of the game was Marcus Smart. Smart finished the night with 27 points, 7 rebounds and 7 assist in the absence of Isaiah Thomas. Celtics guard Avery Bradley was clutch as well scoring 20 points and hitting the game winning three point shot. Cavs star LeBron James finished the game with 11 points, 6 rebounds and 6 assist but he didn't score in the final 16 minutes of the game.
The Celtics and Cavaliers return to action on Tuesday night for Game 4 of the Eastern Conference Finals. Checkout some highlights from the Celtics Game 3 victory below. Stay tuned to HHS1987 for more NBA news. Follow @eldorado2452 on Twitter and Instagram for all your NBA and sports news.
© 2017, Eldorado2452. All rights reserved.