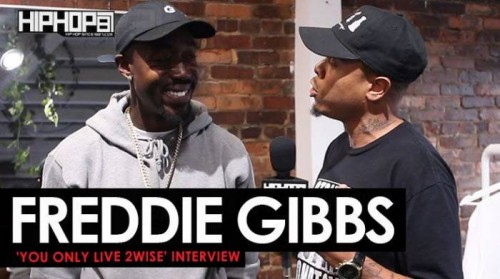 On Wednesday June 7th, HHS1987's Terrell Thomas caught with ESGN rap artist Freddie Gibbs to discuss an array of topics.
After performing in Atlanta at Masquerade during his 'You Only Live 2wise' tour on Tuesday night, Freddie Gibbs stayed in Atlanta for a special meet and greet at the God is Dope store. Following his meet and greet, Terrell Thomas caught with Freddie Gibbs to get some insight on his past year and more.
Freddie Gibbs spoke on his latest project 'You Only Live 2wise' and writing the album while overseas in Austria while facing a false rape changes. Nearly losing his freedom in a foreign land, Freddie Gibbs explained how that time changed him as a man. Freddie Gibbs also broke down the science behind the album artwork for 'You Only Live 2wise'. Looking to defeat his demons, Freddie explained the cover represents his world and what he sees on everyday.
Before concluding our interview, Freddie Gibbs spoke with us on ESGN records upcoming plans for the remainder of the year and how Fatherhood has changed his life. Having a child who watches his every move and how he approaches the journey of life, Freddie Gibbs how Fatherhood has impacted his artistry and his career.
The interview was conducted by Terrell Thomas. The interview was shot by Danny Digital.
Follow on Twitter/Instagram:
@FreddieGibbs
@Eldorado2452
@HipHopSince1987
@DannyDigitall
© 2017, Eldorado2452. All rights reserved.