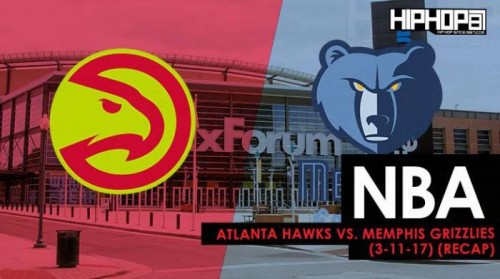 The Atlanta Hawks have won three straight games and now stand at a record of (37-29) after a big road win against Marc Gasol and the (36-30) Memphis Grizzlies (107-90)
The Atlanta Hawks led this matchup from start to finish never looking back. The game was tied once and the Hawks took as much as a 26 point lead on the Grizzlies last night at the FedEx Forum. Rookie Taurean Prince had a career night scoring 17 points with 3 rebounds and 2 steals. Prince seems to be adjusting well as he has seen more minutes lately. Prince has been performing well defensively against some of the NBA top scorers (Curry, DeRozan, L.James) in the last few games.
Hawks stars Paul Millsap and Dennis Schroder were both effective scoring 16 points each. Millsap also added 11 rebounds. New acquired point guard Jose Calderon had his best game yet in a Hawks uniform. Calderon scored 14 minutes on (4-6) shooting in 19 mintues of play. Kris Humphries was named the starting center during pre game as it was announced that Dwight Howard would sit out the second game of the Hawks weekend back to back to rest. Howard is expected to return to the starting lineup on Monday night.
The Memphis Grizzlies have struggled lately losing now five straight games. The Grizzlies only scored 15 points in the first quarter and they never got flowing offensively. The Grizzlies shot 37.8 percent from the floor as a team and shot 17.2 percent from the three point line. JaMychal Green was the high scorer for the Grizzlies scoring 20 points. Memphis point guard Mike Conley scored 16 points with 5 assist. Brandon Wright added 10 points for Memphis.
Both teams are right back in action on Monday. The Grizzlies will host the Milwaukee Bucks on Monday night at the FedEx Forum. The Atlanta Hawks will continue their road trip as they head to San Antonio to face the San Antonio Spurs on Monday night. The Hawks return home to Philips Arena on Thursday March 16th as they host the Memphis Grizzlies.Stay tuned to HHS1987 for more NBA news. Follow @eldorado2452 on Twitter and Instagram for all your Atlanta Hawks, NBA and sports news.
Follow On Twitter/Instagram:
@ATLHawks
@MemGrizz
@Eldorado2452
@HipHopSince1987
© 2017, Eldorado2452. All rights reserved.