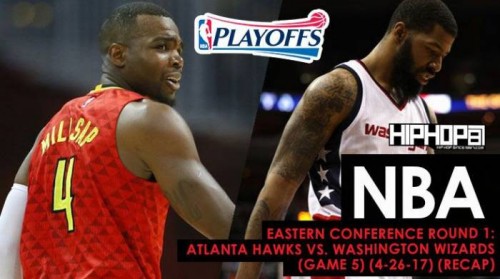 On Wednesday April 26th, the Washington Wizards took a (3-2) series lead versus the Atlanta Hawks in their first round of their 2017 NBA postseason matchup. The Wizards defeated the Hawks (103-99) in their Game 5 matchup in D.C. and the series will now shift to Atlanta for Game 6.
Although the Hawks weren't able to pick up a win on Wednesday night, they do have a few things to highlight from the game. Point guard Dennis Schroder had a great game scoring 29 points and dishing out 11 assist. Schroder was effective from behind the three point line knocking down five three point shots on the night. Hawks all-star Paul Millsap poured in 21 points and 11 rebounds. Dwight Howard was in foul trouble and only attempted 3 shots on night finishing with 5 points on (2-3) shooting from the field. Tim Hardaway Jr. finished with 16 points.
For the Washington Wizards, Bradley Beal was the breakout star of the night. Beal finished with 27 points on (11-22) shooting. John Wall was a scoring machine in Games 1 and 2 vs. the Hawks averaging 32 points a night but his scoring numbers have decreased. In Game 5, John Wall finished the night with 20 points and 14 assist. Otto Porter Jr. finished with 17 points and Bojan Bogdanovic finished with 14 points off the bench.
Now the series shifts to Atlanta for Game 6. The Washington Wizards will be looking to pick up a win to move on to the next round. The Atlanta Hawks will be looking to save their season and force a game 7 situation back in Washington D.C. on Sunday. Game 6 tips off on Friday night at 7:30pm on NBATV and ESPNU. As of now, neither team has reported any major lineup changes or injury news. If your in Atlanta, you can catch the game on FM radio on 92.9 The Game. Stay tuned to HHS1987 for more NBA news. Follow @eldorado2452 on Twitter and Instagram for all your Atlanta Hawks, NBA and sports news.
Follow On Twitter/Instagram:
@ATLHawks
@WashWizards
@Eldorado2452
@HipHopSince1987
© 2017, Eldorado2452. All rights reserved.