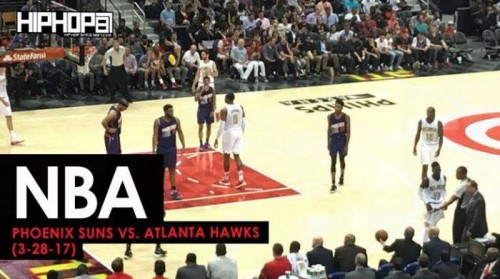 On Tuesday March 28th, the Atlanta Hawks moved on to a record of (38-36) after a much needed (95-91) win over the Phoenix Suns. Even without the services of Paul Millsap, Thabo Sefolosha and Kent Bazemore who all missed the game due to injury.
The Atlanta Hawks ended their 7 game losing streak with their victory on Tuesday night. Dennis Schroder was the Hawks leading scorer as he poured in 27 points on the night. Dwight Howard has been a double-double machine all season. Howard finished the night with 15 points and 11 rebounds. Hawks big man Ersan Illyosova finished with 18 points and Hawks rookie Taurean Prince finished the night with 15 points.
Season recap:

❤️☺5️⃣6️⃣7️⃣✋⌛️⭐️‍♂️

— Atlanta Hawks (@ATLHawks) March 29, 2017
The Phoenix Suns, entered the game short handed after Suns head coach Earl Watson made the announcement that their star sharp shooter Devin Booker with miss the game with an ankle injury. Suns rookie T.J. Warren was the Suns high scorer with 24 points. Suns guard Tyler Ulis scored 15 points.
The Hawks kick off their upcoming three game road trip on Wednesday March 29th as they face the Sixers in Philadelphia. The Hawks will face the Chicago Bulls and Brooklyn Nets over the weekend before returning home to Philips Arena April 6th to face the Boston Celtics. Stay tuned to HHS1987 for more NBA news. Follow @eldorado2452 on Twitter and Instagram for all your Atlanta Hawks, NBA and sports news.
Follow On Twitter/Instagram:
@ATLHawks
@Suns
@Eldorado2452
@HipHopSince1987
© 2017, Eldorado2452. All rights reserved.