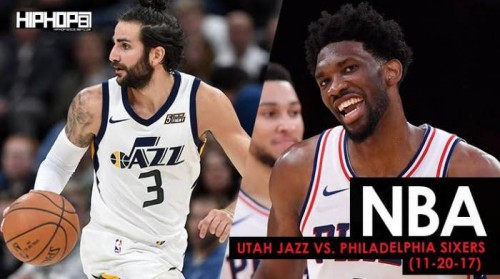 Sixers fans, grab your brooms! For the first time since the 1987-88 NBA season the Sixers have swept the Utah Jazz. Last night at the Wells Fargo Center, the Sixers moved on to a record of (9-7) after defeating the Utah Jazz 107-86.
Dodge duck dip dive and dodge pic.twitter.com/1V3CYpmStq

— Philadelphia 76ers (@sixers) November 21, 2017
The Sixers struggled on offense Monday night against the Jazz but their defensive efforts made up for their offensive woes. The Sixers held the Jazz to just 15 first quarters and just 36 points total in the first half. The dynamic duo of Ben Simmons and Joel Embiid made adjustments in the second half and that opened the game up for the Sixers.
Sixers rookie Ben Simmons has looked like he is looking to take home the 2017-18 NBA rookie of the year award. After scoring 5 points in the first half, Simmons scored 22 second half points to finish with a career high 27 points and 10 rebounds. t's the second time this season that Simmons has had four-plus steals. Simmons has scored in double figures in each of his first 16 career games, becoming the only Sixers player to do so since 1963-64.
The STUFF.
The STARE.
The SHOVE.

Joel Embiid, ladies and gentlemen. pic.twitter.com/qkI6PbS3Bo

— NBC Sports Philadelphia (@NBCSPhilly) November 21, 2017
Sixers big man Joel Embiid also played big last night. Embiid notched his fourth double-double in his last six games by scoring 15 points and corralling 11 rebounds. He now has seven double-doubles on the season.Embiid has now scored in double-digits in all 14 games played this season and has had double-digit rebounds six times. The MVP on the night to Me was Amir Johnson of the bench. Johnson grabbed 13 rebounds in just 21 minutes of action. After the game, Coach Brown spoke on Johnson's efforts in the paint and how he is the ultimate professional.
In the fourth quarter of Monday's matchup Sixers fans were treated to a little excitement via Joel Embiid. After blocking a layup attempt by Utah Jazz rookie Donovan Mitchell and talking a little trash, Embiid was shoved to the ground by Mitchell which resulted in a technical foul on Mitchell and sent Sixers fans to their feet chanting M-V-P!
For the Utah Jazz, the leading scorer on the night was rookie Donovan Mitchell who finished with 17 points, 5 assist and 4 rebounds. Off the bench, Jazz swingman Rodney Hood finished with 13 points on (5-17) shooting. Next up for the Sixers are Damian Lillard and the Portland Trailblazers on Wednesday night. Stay tuned to HHS1987 for more NBA news. Follow @eldorado2452 on Twitter and Instagram for all your Sixers, NBA and sports news.
© 2017, Eldorado2452. All rights reserved.