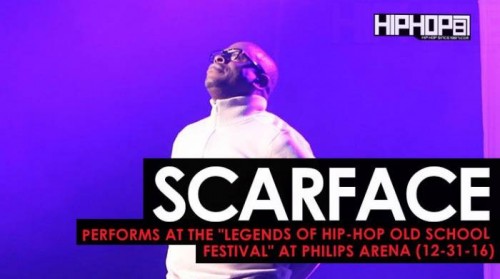 On Saturday December 31st, a few legends of hip-hop bought in the year 2017 with a special concert at Philips Arena. Scarface, Juvenile, Mystikal, 8Ball & MJGTrick Daddy, Pastor TroyDoug E. Fresh, Slick Rick, Big Daddy Kane, Jalil and Ecstasy took over Philips Arena with the "NYE Old School Hip-Hop Fest" hosted by MC Lightfoot.
During the show, Houston's own Scarface hit the stage to perform some of his classic hits & more. Checkout some Scarface performed "Guess Who's Back", "My Back" and more. Checkout Scarface's "NYE Old School Hip-Hop Fest" performance below.
The event was covered by Terrell Thomas (Eldorado). The footage was shot & edited by Danny Digital.
Follow Us on Twitter/ Instagram:
@BrotherMob
@Eldorado2452
@HipHopSince1987
@DannyDigitall
© 2017, Eldorado2452. All rights reserved.