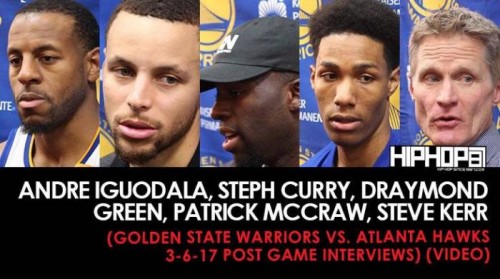 On Monday March 6th, the (52-11) Golden State Warriors defeated the (34-29) Atlanta Hawks (119-111) in front of a sellout crowd at Philips Arena.
The Golden State Warriors wrapped up a five game road trip on Monday night with a big win to move on to a record of (3-2) on the trip where they lost NBA all-star Kevin Durant to a leg injury. In Monday's matchup versus the Hawks, reigning NBA MVP Stephen Curry finished the night with 24 points and 9 assist in 34 minutes of play. Warriors forward Andre Iguodala looked like a rookie again scoring 24 points on (6-8) shooting with 5 rebounds and 4 assist. Iguodala has stepped up his play for Golden State in wake of Kevin Durant's injury. Steph's splash brother Klay Thompson went (5-12) from the field with 13 points and Draymond Green added 12 points with 8 rebounds and 6 assist. Rookie Patrick McCaw continues to grow in his roll as a starter for the Warriros. McCaw was (3-6) from the field scoring 9 points and grabbing 7 rebounds.
For Atlanta, things aren't going the way many fans had hoped when the Hawks six game home stretch began. The Hawks are currently (1-3) on this home stand and Monday's loss came with many questions. Hawks point guard Dennis Schroder was benched in Monday's performance in the second half after scoring 23 points in the first half, with 19 points in the first quarter. Schroder and Atlanta Hawks head coach supposedly exchanged words after an slight on court debate between Schroder and Dwight Howard. Schroder only played about 4 minutes in the second half. Hawks all-star Paul Millsap finished the night with 20 points. Hawks guard Tim Hardaway Jr. finished the night with 19 points.
Following the game we caught up with Golden State Warriors head coach Steve Kerr as well as Warriors stars Steph Curry, Draymond Green, Andre Iguodala and Patrick McCaw. Coach Kerr spoke on the Warriors play down the stretch and coming away with the victory. Wrapping up their five game road trip, Steph Curry and Draymond Green both spoke on returning back to Oracle Arena, playing without Kevin Durant and their matchup against the Atlanta Hawks. Scoring 24 points and taking a trip back in time, Andre Iguodala spoke on his performance, his health and stepping up in the absence of Kevin Durant. Rookie Patrick McCaw finished the game with 9 points and 7 rebounds. McCaw spoke on being a starter since Durant's injury and his growth offensively and defensively in his rookie year.
Both teams are off on Tuesday and will get back on the hardwood floor on Wednesday night. Game five of the Hawks six game home stand continues as the Hawks host the Brooklyn Nets at 7:30pm EST. The Golden State Warriors are back home in Oakland to host the Boston Celtics at 10:30pm EST.
The Golden State Warriors vs. Atlanta Hawks (3-6-17) matchup was covered by Terrell Thomas. The Golden State Warriors vs. Atlanta Hawks (3-5-17) matchup was shot and edited by Danny Digital. Stay tuned to HHS1987 for more NBA news. Follow @eldorado2452 on Twitter and Instagram for all your Atlanta Hawks, NBA and sports news.
Follow On Twitter/Instagram:
@ATLHawks
@Warriors
@StephenCurry30
@Andre
@Money23Green
@Pmccaw0
@Eldorado2452
@HipHopSince1987
@DannyDigitall
© 2017, Eldorado2452. All rights reserved.