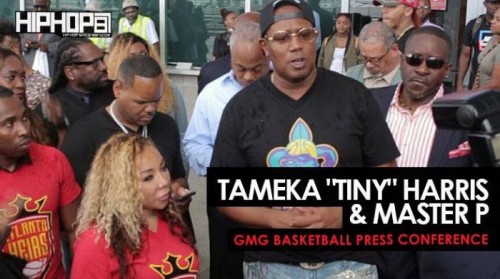 On Thursday August 17th, Tameka "Tiny" Harris & Master P held a press conference in Atlanta announcing their new professional co-ed basketball league "Global Mixed Gender Basketball League".
The press conference took place in downtown Atlanta and featured Atlanta Heirs owner Tameka "Tiny" Harris and GMGB CEO and owner of the New Orleans Gators Master P. During the press conference, Master P and Tameka Harris spoke on the reasons behind the league, the league's mission and they announced the first matchup.
On September 23rd 2017, Master P's New Orleans Gators will face Tameka "Tiny" Harris' Atlanta Heirs at the Cox Pavilion in Las Vegas. Master P and Tiny announced the game will feature co-ed three point and slam dunk contest and will have a special halftime hosted by the Angela Yee, DJ Envy and Charlemagne the God.
The "GMG Basketball Press Conference" was covered by Terrell Thomas (Eldorado). The "GMG Basketball Press Conference" was shot by Danny Digital.
Follow On Twitter/ Instagram:
@gmgbasketball
@masterp
@majorgirl
@Eldorado2452
@DannyDigitall
© 2017, Eldorado2452. All rights reserved.