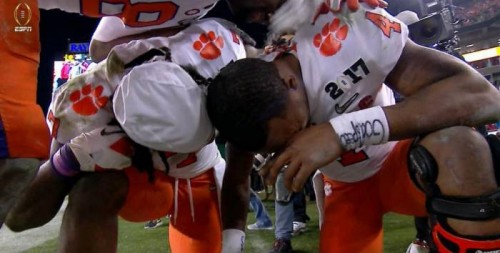 What a game in Tampa! After a thriller for all the marbles, the Clemson Tigers have defeated the Alabama Crimson Tide (35-31) in the National Championship and they are the 2016 NCAA College Football National Champions.
Ohhhhh I wanna dance with somebody https://t.co/ICxxGukc8U

— ESPN CollegeFootball (@ESPNCFB) January 10, 2017
With under 5 seconds remaining, Clemson quarterback Deshaun Watson completed the game winning touchdown pass to Clemson wide receiver Hunter Renfrow. Watson's performance was one for the ages. Deshaun Watson finished the night going (36-56) with 420 yards passing and 4 touchdowns. Watson was named the offensive MVP of the game.
The Play pic.twitter.com/qLrw7Uywk3

— Clemson Football (@ClemsonFB) January 10, 2017
The win gives Clemson their second National Title in school history and the first in the last 35 years. Clemson trailed in the game early but fought back to make my pre game predictions of a Clemson win correct. According to NFL.com,
The comeback began with Clemson trailing 17-7 when Watson found Renfrow for a 24-yard touchdown pass on a crossing route with 7:10 left in the third quarter. It continued with a 4-yard touchdown pass to Mike Williams with 14 minutes left in the game. And it ended with two Watson-led touchdown drives late in the fourth quarter. Against a defense loaded with NFL talent, Watson engineered an 88-yard touchdown drive and a 68-yard touchdown drive on Clemson's last two possessions. In between, Alabama QB Jalen Hurts broke free for a 30-yard touchdown run to give UA a 31-28 lead with 2:07 remaining. "No one panicked," Watson said of the late-game heroics. "I walked up to my offensive line, walked up to my wide receivers and I said 'Let's be legendary. Let's be great. God put us here for a reason.' It was just right." Alabama struck first on a 25-yard touchdown run by Bo Scarbrough, who broke free around the left side for his fifth touchdown of the postseason. Quarterback Jalen Hurts got the drive started with a 20-yard run, and Clemson helped the Tide with a 15-yard personal foul against Clelin Ferrell for roughing Hurts. Scarbrough scored again from 37 yards out in the second quarter to give UA a 14-0 lead, again around the left side of a UA offensive line that opened a wide hole for the 240-pounder. However, he left the game in the second half with a leg injury.
Last night, Clemson broke Alabama's winning streak of 26 straight wins. The Crimson Tide hadn't lost a game since September 19th, 2015. Congratulations to Clemson on winning the NCAA College Football National Championship.
© 2017, Eldorado2452. All rights reserved.