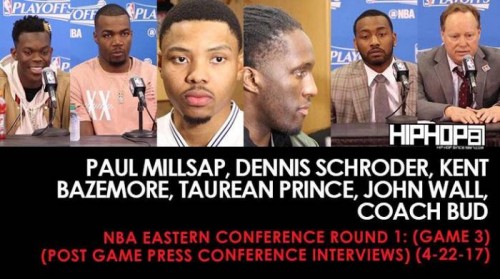 On Saturday April 22nd, the 2017 NBA Eastern conference matchup between the Washington Wizards and the Atlanta Hawks shifted to Atlanta for Game 3 of the series. In Game 3's matchup, the Atlanta Hawks walked away with a (116-98) victory cutting the Wizards series lead down to (2-1).
The Atlanta Hawks led the game from the opening tip and never looked back. Atlanta Hawks stars Paul Millsap and Dennis Schroder lead their team from pre game warm ups to the final buzzer. Paul Millsap finished the night with 29 points and 14 rebounds on (12-20) shooting from the field. Dennis Schroder finished with 27 points and 9 rebounds. Hawks rookie Taurean Prince has played well during these 2017 NBA playoffs and Game 3 may have been his best outing yet. Prince finished the game with 16 points on (7-10) shooting with 4 rebounds. The Hawks jumped out to a (38-20) lead after the first quarter and never looked back.
The Washington Wizards were hot from the field in Games 1 & 2 at home in D.C, that didn't travel with them to Atlanta for Game 3. The Wizards shot 24% from the three point land on Saturday afternoon and overall just 41% from the field for the game. Wizards all-star John Wall led the way with 29 points and 7 assist. Wizards sharp shooter Bradley Beal struggled going (6-20) from the field for 12 points. Markieff Morris added 9 points on (4-14) shooting and Brandon Jennings added 13 points on (4-6) shooting off the bench.
Following the game we caught up with a few of the Washington Wizards and Atlanta Hawks players and coaches to get post game insight on Game 3 of their playoff matchup. First up were the Atlanta Hawks head coach Mike Budenholzer, rookie Taurean Prince and Hawks stars Dennis Schroder, Kent Bazemore and Paul Millsap. Coach Bud spoke to the media about the play of the Hawks in the victory and what must be done to get a win in Game 4. Paul Millsap and Dennis Schroder discussed defending Wizard star John Wall, seeing growth in rookie Taurean Prince and what it will take to even the series on Monday night.
We stepped into the Hawks locker to catchup with Kent Bazemore and Taurean Prince. Taurean Prince would finished with 16 points spoke on seeing more playing time, picking up a much needed win and the impact the home crowd had on their victory. Kent Bazemore who finished with 8 points off the bench spoke on keeping the momentum and what it will take to pick up a win Monday night. Before wrapping up the night, we caught up with Washington Wizards all-star John Wall. Wall spoke on his team's struggles shooting and remaining focused as the Wizards still hold a (2-1) series lead.
Game 4 of the Atlanta Hawks and Washington Wizard first round matchup with tip off at 8pm Monday night on TNT. As of now, neither team has reported any major lineup changes or injury news.  If your in Atlanta, you can catch the game on FM radio on 92.9 The Game. Stay tuned to HHS1987 for more NBA news. Follow @eldorado2452 on Twitter and Instagram for all your Atlanta Hawks, NBA and sports news. Game 4 takes place at Philips Arena on Monday 24th at 8pm.
Follow On Twitter/Instagram:
@ATLHawks
@WashWizards
@Eldorado2452
@HipHopSince1987
© 2017, Eldorado2452. All rights reserved.