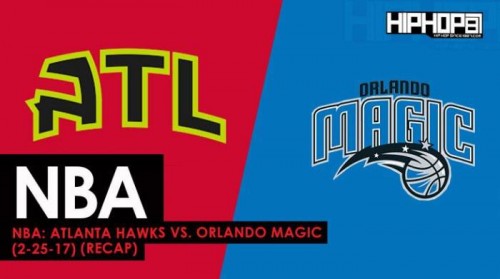 Last night, the Atlanta Hawks fell to (32-26) on the season after losing to the (22-38) Orlando Magic on the road at the Amway Center in Atlanta (108-90). For the Hawks, this is their second straight lost following the 2017 NBA all-star break and questions are beginning to surface on what must happen to shake things up a bit.
The Atlanta Hawks came out the gate firing but it appears that the Magic were determined to not lose on Saturday night. Hawks guard Tim Hardaway Jr. was Atlanta's leading scorer as he finished with 15 points on (6-11) shooting. Hawks all-star Paul Millsap finished the game with 11 points and 7 rebounds while his teammate Dwight Howard also scoring 11 points with 14 rebounds. After missing Friday night's game vs. the Miami Heat, Hawks point guard Dennis Schroder was back in action but was not in the starting lineup. Schroder was late to the team bus so he didn't start the game. Schroder finished with 11 points and 8 assist. Rookie Taurean Prince played big on the night shooting (4-7) from the floor with 11 points.
For the Orlando Magic at one point were leading the Hawks by 21 points and it seemed once that happen in the second half of the ball game, they never looked back. Newly acquired forward Terrence Ross was the high scoring for the Magic finishing the with 24 points including going (4-7) from the three point line. Magic high flyer Aaron Gordon was highly effective in paint shooting (7-11) for 18 points. Nikola Vucevic finished with 16 points and 14 rebounds.
The difference in the game to me came in the third quarter. Dwight Howard picked up a tough fourth foul with three minutes remaining in the second quarter yet the Hawks were only down three points (49-46) at the half. The Magic outscored the Hawks (31-19) in the third quarter and that seemed to be the difference in the game. The Hawks will look to rebound on the road on Monday night as they head to Boston to face the Boston Celtics. The Orlando Magic are back in action on Wednesday March 1st against the New York Knicks.
Stay tuned to HHS1987 for more NBA news. Follow @eldorado2452 on Twitter and Instagram for all your Atlanta Hawks, NBA and sports news.
Follow On Twitter/Instagram:
@ATLHawks
@OrlandoMagic
@Eldorado2452
@HipHopSince1987
© 2017, Eldorado2452. All rights reserved.