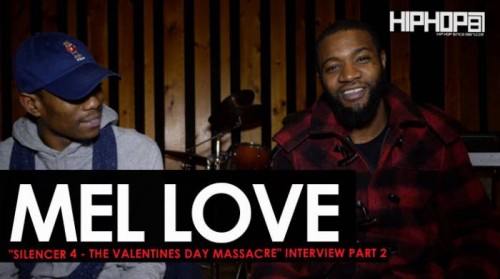 2017 has started off great for The Philadelphia music scene! Almost every part of the city has at least one artist that is making noise on a large level and today HipHopSince1987 is dropping part 2 of our interview with one of the names in Philly that is heating up the streets, Mel Love. Last week Mel Love released his highly anticipated mixtape "Silencer 4 – The Valentines Day Massacre". The project has received great reviews so far and the lead single off the project "Run It", which features Lihtz Kamraz, is currently being played hourly on BET Jams.
In this interview, Mel Love talks about his new project "Silencer 4 – The Valentines Day Massacre" and the creative process he went through to make the project. He also talks about some great advice he got from rap legend T.i. As well as advice he's received from his friend Meek Mill. Mel Love takes time to breakdown why it's important to keep people around you that will keep it real with you at all times. He also goes into detail about how hard he works to take his music career to the next level. E-Money also gets Mel Love to talk about a possible "Bloodhounds" reunion and a Dream Chasers compilation project.
Checkout this interview NOW and also watch part one below if you haven't already seen it.
Also make sure you download Mel Love's new mixtape "Silencer 4 – Valentines Day Massacre" NOW!!
This interview was conducted by HHS1987.com's own E-Money, and shot & edited by Rick Dange.
Part One of the Interview:
Follow Us on Instagram & Twitter:
@MelLove215/@Mel_Love215
@HipHopSince1987
@BeatEmUpMoney/@EmoneyBeatz
@RickDange
© 2017, RickDange. All rights reserved.