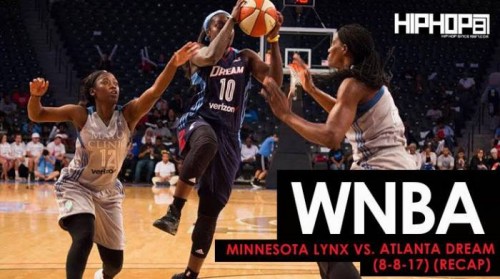 On Tuesday August 8th, the Atlanta Dream fell to a record of (10-16) after losing to the (21-3) Minnesota Lynx (81-72).
The Lynx moved on to a perfect record of (3-0) against the Atlanta Dream this year. For the Atlanta Dream, WNBA all-star Elizabeth Williams finished with a careerhigh eight offensive rebounds. Williams finished the game overall with 16 points and 11 rebounds. The Dream are now 5-17 all-time against Minnesota and 3-8 in Atlanta. The Dream have lost nine straight to the Lynx.
For the Minnesota Lynx, WNBA all-star Sylvia Fowles finished with a game high 27 points, 13 rebounds and 4 blocks. 21 of Fowles 27 points came in the first half of the game. Maya Moore finished with 16 points on (7-15) shooting from the field with three rebounds and 4 assists.
HHS1987's Terrell Thomas was courtside to provide a full recap. HHS1987's Danny Digital was on the scene to capture the game's highlight and Terrell Thomas' pre-game and post-game recaps.
Follow On Twitter and Instagram:
@AtlantaDream
@MinnesotaLynx
@Eldorado2452
@HipHopSince1987
@DannyDigitall
© 2017, Eldorado2452. All rights reserved.