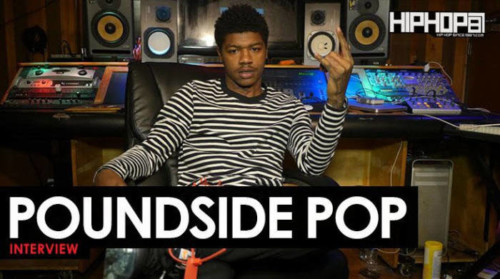 Right now, the wave in Philadelphia music scene is controlled by the younger artists in the city. One artist that has been truly representing the city and making a solid name for himself is PoundSide Pop. Hailing from North Philly, Poundside Pop had one of the biggest records to come out of Philly last year from an independent artist. Many of you remember the record "OSS" also know as "On Some Shit", and have seen a bunch of people across social media using the phrase.
Recently HipHopSince1987's own Rick Dange linked up with PoundSide Pop in E.R. Studios for an exclusive interview. In the interview PoundSide Pop talks about coming up in Philly and how he got his name. He speaks about his hit record "OSS" and how it keeps growing across the country. He even hints at a possible remix coming soon. PoundSide Pop also talks about the passing of his close friend TrapStreet Saddi and how he actually got him to take music seriously. Before wrapping up the interview PoundSide Pop talks about his upcoming project and the state of the music industry in Philly.
Checkout this exclusive interview with PoundSide Pop NOW and make sure you come out to Voltage Lounge on May 26th & May 27th for the HipHopSince1987 Mini Festival Featuring PoundSide Pop!!
This interview was shot & edited by Rick Dange.
© 2018, RickDange. All rights reserved.