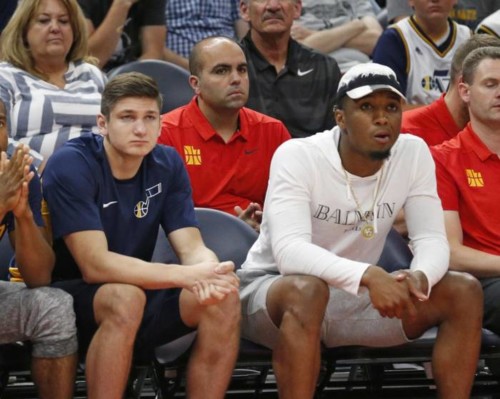 The Utah Jazz picked up a win in their UTAH Summer League debut on July 2nd. After defeating the San Antonio Spurs (92-76), all eyes were on Jazz rookie guard Grayson Allen.
In his first NBA Summer League matchup, Grayson Allen finished the game with 11 points, 8 rebounds and 7 assist shooting (4-16) from the field.
Following the game, Grayson Allen sat down with the media and spoke on his first NBA game. Allen addressed the pace of the game and building the proper conditioning for the NBA season. Grayson Allen officially signed his Jazz contract on game day and he spoke on fulfilling one of his childhood goals.
Grayson Allen spoke on Donovan Mitchell's impact on the benching assisting him, some parts of his game he wants to improve in, Utah Jazz fans and more.
The Utah Jazz host the Atlanta Hawks in there final UTAH Summer League matchup on Thursday July 5th in Salt Lake City, Utah at 7pm MT/ 9pm EST.
Follow on Twitter/ Instagram:
@Eldorado2452
@graysonjallen
@theseurbantimes
@UtahJazz
© 2018, Eldorado2452. All rights reserved.