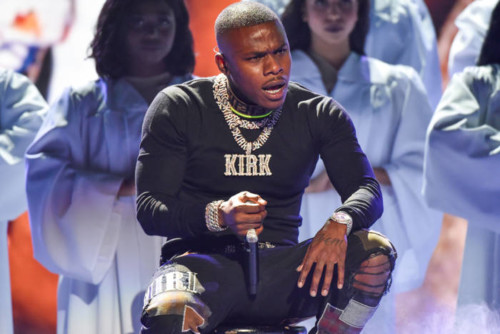 DaBaby has a lot of celebrating to do.
After debuting on top of the Billboard 200, DaBaby's "KIRK" has earned a massive feat. All 13 songs from the album have charted on the Billboard Hot 100!
"INTRO" heads into its second week on the chart, peaking at No. 13. "BOP," which is on its second week, is currently at No. 19. And "VIBEZ" is not too far behind at No. 21. Prior to the album release, DaBaby already had three songs charting – "Cash Shit" featuring Megan Thee Stallion, "Baby Sitter" featuring Offset, and Suge.
That's a new career total of TWENTY SONGS on the Hot 100!
Rank, Title
No. 13, "Intro" (up from No. 17, new peak)
No. 19, "Bop"
No. 20, "Suge" (down from No. 18; hit No. 7 in July)
No. 21, "Vibez" No. 26, "Baby," with Lil Baby (down from No. 21 peak)
No. 28, "Toes," feat. Lil Baby & Moneybagg Yo
No. 43, "iPhone," with Nicki Minaj
No. 44, "Cash Shit," Megan Thee Stallion feat. DaBaby (down from No. 41; hit No. 36 in September)
No. 47, "Off The Rip"
No. 49, "Pop Star," feat. Kevin Gates
No. 51, "Raw Shit," feat. Migos
No. 52, "Enemies," Post Malone feat. DaBaby (down from No. 36; hit No. 16 in September)
No. 55, "Gospel," feat. Chance The Rapper, Gucci Mane & YK Osiris
No. 63, "Really," feat. Stunna 4 Vegas
No. 69, "XXL"
No. 73, "Prolly Heard"
No. 79, "Baby Sitter," feat. Offset (down from No. 71 peak)
No. 89, "There He Go"
© 2019, MariaMyraine. All rights reserved.