I guess Nothing Was The Same since Kendrick mentioned Drizzy in his "Control" verse; and to prove that point it's seems that Drake has removed Future from his upcoming tour after the melodic rap artist kept it too "Honest" with Billboard in regards to his thoughts about NWTS.
"Future is now in the midst of a beef with Drake, that has cost him a spot on Drake's tour and over $100,000 and counting after he allegedly made some comments about Drake's music in Billboard Magazine. Last month, Future was booked to tour with Drake and Miguel on the 39-city "Would You Like A Tour" tour, however things got awkward after Future dropped by Billboard's offices on October 4 to promote his new album Honest, and later that day, his comments regarding Drake were posted on Twitter by the magazine's associate editor (@3rika):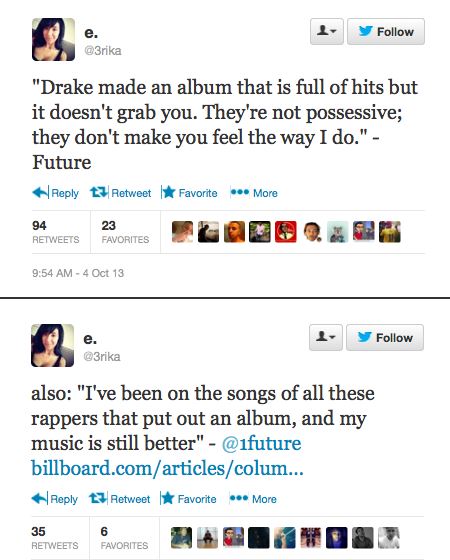 Future immediately responded to his alleged quotes by tweeting that he was disappointed in being misquoted: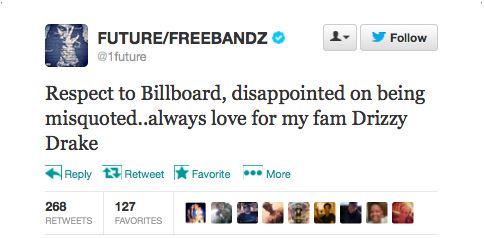 His managers also reached out to Billboard to get them to edit the story, while saying that the original comments were supposed to be off the record, but the damage was already done.

Future was fired, but then negotiations started to bring him back late last week. But over the weekend, Future pulled out for good after Drake's camp demanded he make financial concessions. Future, who was set to earn about $40,000 per gig, is set to file a lawsuit this week against Drake for lost wages, or about $1.5 million.

The rappers' beef is the latest drama in Drake's tour. Last month, about a dozen dates were pushed back and rescheduled.

Reps for both Drake and Future had no comment. A rep for Billboard told us: "We regret that miscommunication surrounding Future's recent visit, one that seemed clear to us was on the record, may have caused any trouble for the artist."

Jhene Aiko may be replacing Future on the tour but nothing has been confirmed as of yet."
© 2013, @quinelleholder. All rights reserved.