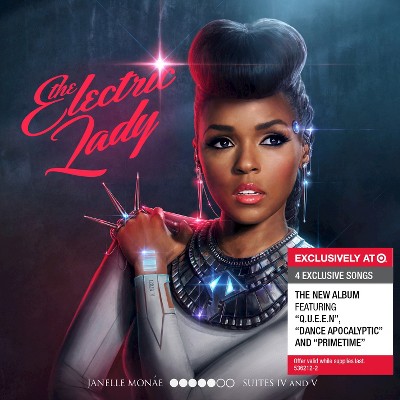 Here is the official artwork for Janelle Monae's upcoming album The Electric Lady. The 2 disc album features Prince, Erykah Badu, Solange, Miguel, Esperanza Spalding and more. The project is set to drop on September 10th.
Disc 1:
01. Suite IV Electric Overture
02. Givin Em What They Love (feat. Prince)
03. Q.U.E.E.N. (feat. Erykah Badu)
04. Electric Lady (feat. Solange)
05. Good Morning Midnight (Interlude)
06. PrimeTime (feat. Miguel)
07. We Were Rock & Roll
08. The Chrome Shoppe (Interlude)
09. Dance Apocalyptic
10. Look Into My Eyes
Disc 2:
11. Suite V Electric Overture
12. It's Code
13. Ghetto Woman
14. Our Favorite Fugitive (Interlude)
15. Victory
16. Can't Live Without Your Love
17. Sally Ride
18. Dorothy Dandridge Eyes (feat. Esperanza Spalding)
19. What An Experience
Target Deluxe Edition:
20. HYTB
21. I Want You Back (Jackson 5 Cover)
22. Q.U.E.E.N. (Remix)
23. The Electric Lady (Remix)
© 2013, @BWyche. All rights reserved.