It's been all over the Internet for the past few days that Power 105.1′s DJ Envy had an affair with Love & Hip Hop's Erica Mena. The story reported by InFlexWetrust.com stated that Envy lead Erica on for 3 years and that she did not know that he was married and when she found out she immediately broke it off. Supposedly Envy was treating Erica like his girlfriend taking her on all kinds of trips and shopping sprees.
We at HHS1987 read the Flex story but I refrained from writing on it because I'm not really into reporting rumors and people's personal lives especially if it may not be true. Not to mention the story was posted on InFlexWeTrust which is owned by Hot 97′s Funk Master Flex who a rival DJ in New York so I thought it was a big chance the article could be a little biased. However, today Envy addressed the rumor on the air and although he did not say Erica's name he did admit to an affair. "I started messing with somebody that was beneath me, a bird, evil, a liar. Somebody that was desperate and it's just so pathetic. I mean I didn't have to feed this person. I didn't have to make her feel special because she wasn't. So that's what it was." Envy also stated that he started having extra marital affairs because he wife is so beautiful and smart and she made him feel insecure.
Erica spoke with Vibe Vixen about what Envy said on air. Here's what Erica had to say below.
"DJ Envy's definitely talking about me, but I'm one of many. I was under the assumption that he had kids but wasn't actually married. I found out around the time that I started filming Love & Hip-Hop. After I found out, I was still in shock because we were together for so long. I didn't understand how he could take a vow as serious as marriage and take on a whole other relationship. It's sad that now he's taking all these shots saying I'm a liar and I'm pathetic, when he deceived me. It's not fair to paint me out as a liar when he was leading a double life for many years. He's never publicly come out with his wife until now because he's ashamed of her. It's no secret."
Erica Mena is coming out with a book which sparked all this talk about the affair and Erica insists that her book isn't a "tell-all" but a book about her life and Envy just happens to be a part of her life.
WOWzers.
Okay now time for my opinion.
1. Do I believe that Erica didn't know that Envy was married? Absolutely not. Why would it take you three years to Google someone? And Envy's marriage isn't a secret. Not that I know of. I knew that he was married and I'm not dating the guy. Maybe Erica should have been a little smarter in that situation or MAYBE according to her she was being smart because apparently dealing with a rich married man is all the rave now. You get all the perks and don't have to answer to them because obviously they're married.
2. This Power 105 & Hot 97 beef is becoming a bit too much for me. I listened to Flex rant and go off on Envy and his situation and it made me cringe. But I couldn't blame Flex because Envy & Charlamagne didn't hold back when they decided to bring up Flex's personal life. As a fan of both station and obviously I have the utmost respect for Flex just as ANYONE should, because of what he did for hip-hop and Hot 97, I'm going to respectfully say that all of these grown men sound foolish. I'm not really sure what you get out of exposing people but maybe this beef should just focus on radio popularity and talent or whatever long as it doesn't have to do with people's personal lives. Kids are involved, and the whole thing is very unbecoming.
3. I think I lost a lottttt of respect for Envy after what he said on air about Erica and if his wife has any sense she would have lost respect for him also. Erica wasn't a bird, evil, or beneath him when he was sleeping with her, taking her shopping, or taking her on vacations. I don't condone, never have and never will, a man disrespecting  a female and as a female you shouldn't feel comfortable with a man disrespecting a female for you. Because one day it just may be him disrespecting you for another female. Erica is a mother and although she doesn't even have the most respect for herself I still just don't think that he should have said any of that on air. Not to mention everything he said sounds like bullshit. But that's neither here nor there. Lol I'm going to keep my opinion about that part to myself.
Oh yea, you can pre-order Erica's book on Amazon.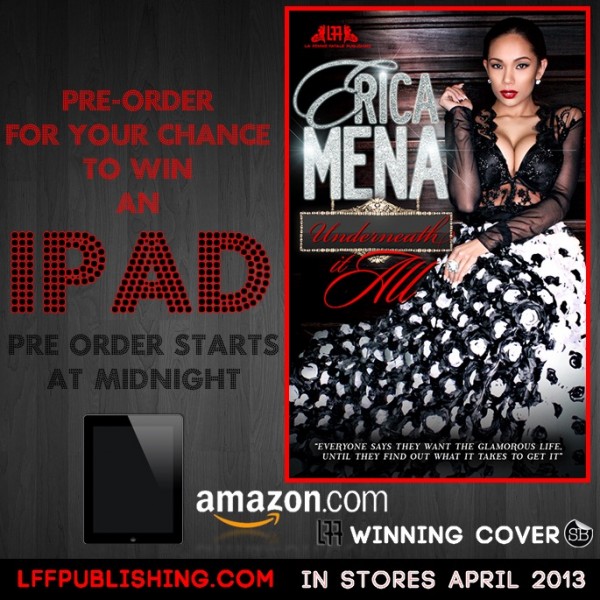 © 2013, @BWyche. All rights reserved.