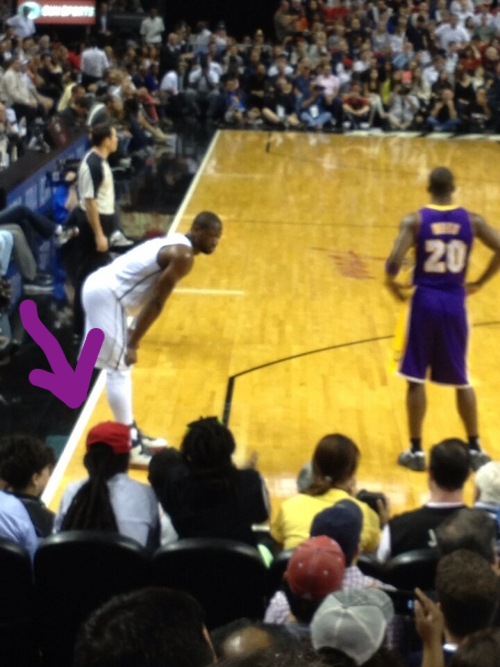 Yesterday afternoon during the NBA's big sunday matchup between Lebron James and the Miami Heat against Kobe Bryant and the Los Angeles Lakers, YMCMB CEO Lil Wayne was in attendance to cheer on Kobe and the Lakers when he was kicked out of the Arena for harsh comments towards Miami Heat players and reportedly making a gun gesture toward a security guard during a argument with Arena Police.
Lil Wayne was said to be verbally harassing Dwyane Wade and also supposedly was heard calling Heat forward Chris Bosh "Soft". After several arguments with Heat fans Wayne was kicked out of the Arena. When Lebron James was asked about the incident he stated: "I heard he said he was kicked out. I heard from our people he was not kicked out".
Afterward AmericanAirlines Arena released a statement saying "Lil Wayne did not get ejected. He chose to leave" , Wayne of course disagreed.
After leaving the American Airline Arena Lil Wayne went straight to Twitter to tell his fans about his latest beef with an NBA team.
"@LilTunechi: So I'm @ da Heat game right, rootin 4 da Lakers kuz dats my team &; would u believe they got police 2 make me leave?! Wow! (Expletive) da Heat"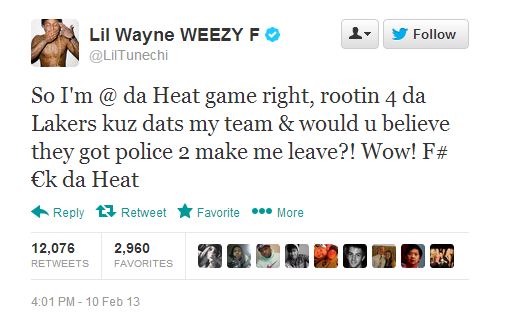 The Heat beat the Lakers (107-97)
© 2013, Eldorado2452. All rights reserved.