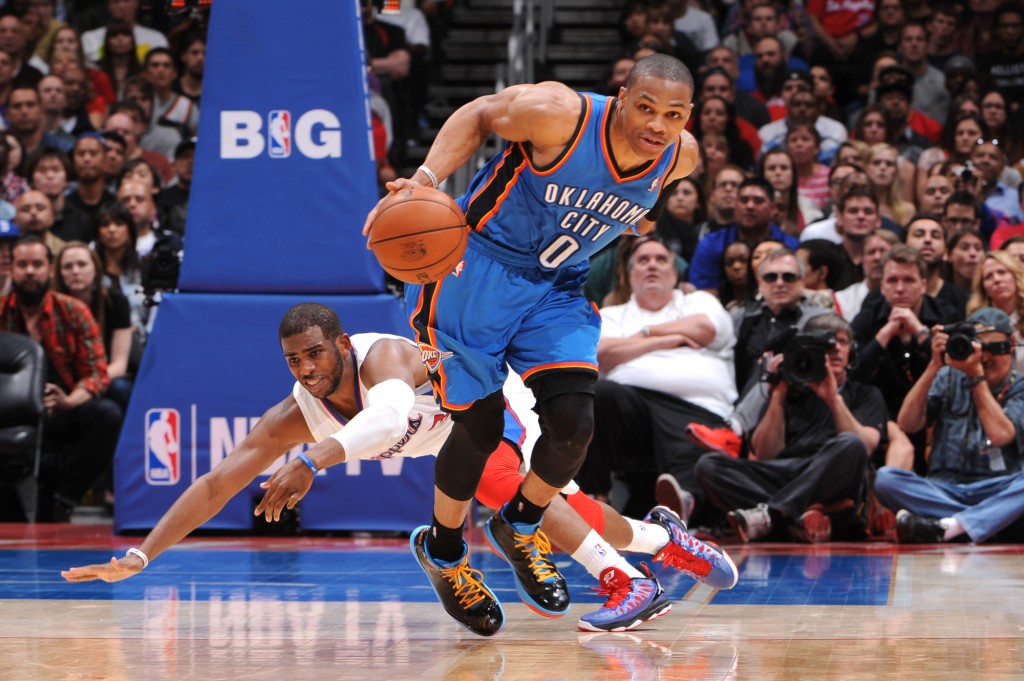 The 2013-2014 NBA Season tips off this Tuesday night with three games scheduled: Orlando vs Indiana, Chicago vs Miami, and the L.A. Lakers vs the L.A. Clippers. In part 1 of our NBA preview, we'll take a look at each team in the Western Conference and some of the big story lines headed into this season.  The Western Conference really is up for grabs this season with no clear favorite. Will the Spurs continue their quest for one final championship with their current group? Will Oklahoma City return to the top of the conference? Or is it time for someone new, like the Clippers or Golden State? Without further ado, here is part 1 of the NBA Preview – our look at the Western Conference. (Teams shown in order of prediction)
Northwest Division:
1. Oklahoma City Thunder: OKC is hungry after losing to the Grizzlies in the second round of the playoffs last year. For the Thunder, it all starts with SF Kevin Durant. LeBron is the best player in the NBA right now but Durant is awfully close. Durant averaged 28.1 PPG last year and will be in for another MVP-like season. PG Russell Westbrook is expected to miss the first 4-6 weeks of the season while still recovering from his playoff injury. OKC is a good team without a healthy Westbrook, but a championship contender with him. PG Reggie Jackson will have an increased role with Westbrook out, but could also be in for a breakout season even off the bench once he returns. PF Serge Ibaka is a great rebounder and shot blocker who is developing more of a low-post offensive game, his numbers (13.2 ppg/7.7 rpg) should continue to improve. Thabo Sefolosha and Jeremy Lamb will likely split time at the SG position. Sefolosha is more of a defender but Lamb has solid offensive potential if he can find some consistency. Lamb and Sefolosha will both have opportunities to replace the production of the departed Kevin Martin. Rookie C Steven Adams is still a project but has been one of the best looking rookies so far this pre-season. The Thunder should again be one of the favorites in the West again this year and could take home their first NBA title.
2. Minnesota Timberwolves: Though health is a key concern with the T-wolves, this finally looks like the year the T-wolves will break through. PF Kevin Love appears to be over his hand injury and is a historic type of rebounder. Love is also underrated as a shooter and passer and should once again put up all-star numbers across the board. PG Ricky Rubio's passing ability and court vision is incredible. Rubio, who returned last Dec. from ACL surgery, averaged 10.7 ppg & 7.3 apg. Those numbers should improve and if he continues to develop his offense/shooting he will soon be an all-star. C Nikola Pekovic is a true low-post presence and has a great shooting touch for a big man. T-wolves brought in SG Kevin Martin and he should be an efficient scorer under Coach Rick Adleman who he played for twice before in Sacramento and Houston.  2nd year PF Derrick Williams is talented but still developing. He will have an increased role since SF Chase Budinger is out indefinitely with a knee injury. Look for SF Corey Brewer to also have an increased role due to Budinger's injury as well. Coach Adleman is also vastly underrated, his 1,002 wins is best for 8th all-time in NBA history. This looks like the year the T-wolves make their return to the playoffs (their first since 2004).
3. Denver Nuggets: Denver must replace George Karl and Masai Ujiri, who were coach and executive of the year last year. New coach Brian Shaw has his work cut out for him. With Andre Igoudala also gone, SF Danilo Gallinari will likely be their main offensive weapon this season. He's a good shooter and his 16.2 ppg average should likely increase but he's out at least until the end of Nov recovering from an ACL. Quick PG Ty Lawson will be counted on to shoulder the offensive load until Danilo returns. Reliable Veteran PG Andre Miller and spark plug Nate Robinson should also contribute. SG Randy Foye brings a much-needed perimeter game and SF Wilson Chandler is a multidimensional player who can do many things on offense at different positions. C JaVale McGee at times has some exciting dunks and can block some shots, but he is a frustrating player with poor fundamentals who constantly has mental lapses on the court. PF Kenny Faried is a bit undersized but he's a tough high energy player who always plays his heart out. However his 11.5 ppg and 9.5 rpg may be the ceiling for him and the Nuggets really need him to improve as an all-around PF. I fully expect the Nuggets to drop off a bit this season due to their personal losses.
4. Portland Trailblazers: PF LaMarcus Aldridge (21 ppg/9.1 rpg) is still the Blazers' best player because he plays in Portland and is one of the most underrated in the NBA. He could be even better this year as now with the addition of C Robin Lopez he can relieve some of the stress down low for Aldridge, something Aldridge has never really had before. Lopez isn't as good offensively as his brother Brook but is a solid defender and was a great addition for Portland. PG Damian Lillard (19 ppg/6.5 apg) was outstanding as a rookie and handled his responsibilities well. He should continue to grow into a great PG. Veteran PG Mo Williams will likely contribute in a 6th man type of role. SG Wesley Matthews is a nice three-point shooter and is a solid defender. Talented rookie SG C.J McCollum is out indefinitely with a broken foot but should hopefully contribute at some point this season.  SF Nicolas Batum (14.3 ppg)  really is still learning who he is as a player which is scary since he's already a super athletic guy who can get to the rim and also shoot the three. Batum could be in for a true breakout season if  he really starts to put it all together. The Trailblazers have an exciting young nucleus and while it may not happen this season, Portland is close to being a playoff team again soon.

5. Utah Jazz: The Jazz are a very young but talented team. Gone are their top scorers and big men (Milsap & Jefferson) but that gives their young guns the chance to shine. PF Derrick Favors while in his 4th season is still only 22 and should see his averages from last year (9.4 ppg/7.1 rpg) skyrocket. Favors always had the skill to be a great PF and he finally looks to be maturing into one. Favors is more talented offensively but C Enes Kanter should also finally break out in this his 3rd season. Kanter could turn into a double double machine as a strong interior presence and rebounder who's only getting better. SF Gordon Hayward (14.1 ppg) drastically improved last year and being their best wing player, he could wind up being the team's leading scorer this season. Talented rookie PG Trey Burke will be the floor leader once he returns from a broken finger. Until Burke returns, John Lucas III should play point guard. SG Alec Burks is versatile and can make some shots but needs to develop more  consistency. SG Brandon Rush and SF Richard Jefferson should also see solid contribution off the bench. Rookie C Rudy Gobert is a project but has the longest wingspan ever recorded in the NBA (7'9 ft) The Utah Jazz are likely a year and a piece or two away from contending for a playoff spot, there's a lot to be excited about in the future (and present) if you're a Jazz fan.

Pacific Division:
1. L.A. Clippers: The biggest move the Clippers made this off-season was  bringing in former Celtics Coach Doc Rivers, a move which should make LAC serious title contenders. Rivers will try to get C DeAndre Jordan to stay out of foul trouble and improve on his stats from last year (8.8 ppg/ 7.2 rpg). Jordan's improvement under Doc will be crucial for their title hopes. PG Chris Paul (16.9 ppg/9.7 apg) will continue his pick and roll style and could be in for an MVP type of season. PF Blake Griffin (18.0 ppg/8.3 rpg) is what he is at this point, he's an exciting player at times but he will never be counted on to take and make a big shot for his team. PF Byron Mullens will back up the bigs. Clippers brought in SG J.J Reddick and his ability to come off screens and hit a three pointer is crucial in Doc's offense, he'll try to be what Ray Allen was for Boston. SG Jamal Crawford will handle sixth man duties again. Crawford is a gunner who really likes to shoot, sometimes too much.  Clippers also brought in SF Jared Dudley. Dudley  is a very solid defender who doesn't always need to score, but can shoot if need be. SF Matt Barnes will still be an energy player off the bench and he's a pesky defender no one likes to play against. The Clippers should be considered the favorite in the Pacific Division and with Doc now coaching the team an NBA championship appearance isn't out of the question.

2. Golden State Warriors: The Warriors exciting backcourt revolves around two of the best shooters in the NBA. PG Steph Curry (22.9 ppg/6.9 apg) is a great shooter who is still learning the point guard position so there's still room for improvement, which is scary thought. SG Klay Thompson (16.6 ppg) is everything you want in a shooting guard and works well with the ball and off the ball. GS brought in SF Andre Igoudala who is the talented defensive stopper they've sorely needed. He's also a solid third scoring option and Iggy could be in for a big season with his new team. SF Harrison Barnes is a 6th man of the year candidate and he is continuing to improve as a player offensively. C Andrew Bogut has only played in 44 games the past two seasons, but when he's healthy he's one of the best centers in the league. Bogut is can score, pass and dominate rebounding, but his health again will be key, it's a big risk/reward type of situation. PF David Lee can put up a double double at any time, though he isn't great defensively and had injury issues as well last year.  PFs Marreese Speights and Draymond Green should contribute especially if the Warriors bigs can't stay healthy. Since they're not a deep team it all comes down to health for GS (as Curry has had some ankle issues as well) and if healthy this team could make some serious noise in the West.
3. L.A. Lakers: The only thing certain in LA right now is that this will be an interesting season, good or bad. SG Kobe Bryant is out indefinitely recovering from Achilles surgery. Kobe won't be ready to start the season but thinks he'll be back soon, though this injury has ended the careers of many & he may return as shell of himself. If anyone can recover from this it is Kobe though. SG Jodie Meeks is at times a very good shooter but he'll need to pick up is scoring (7.9 ppg) especially with Kobe out. PF Paul Gasol (13.7 ppg) should be in for a career year now that Dwight Howard is gone. Gasol will be their main offensive weapon and will try to keep LA competitive until Kobe comes back. Free agent C Chris Kaman is was a good signing, he's been an all-star before and should compliment Gasol's game nicely. PF Jordan Hill is completely back from injury as well and will contribute as an energy player off the bench. PG Steve Nash is 39 and looks to have lost a step offensively and he's always been a bad defender. The former great PG looks like a shell of himself  at the end of his career and because he will have to rest many nights this season, i expect PGs Steve Blake and Jordan Farmar to be better for the Lakers this year.  SF Nick Young  is an explosive scorer when he gets hot and could vastly improve on his 10.6 ppg from last season. Right now i just can't see the Lakers making the playoffs this season, though knowing the Lakers history you should never count them (and Kobe) out.
4. Sacramento Kings: First year head coach Mike Malone's biggest issue with this young Kings team will be how he controls C DeMarcus Cousins. Cousins (17.1 ppg/9.9 rpg) should be an all-star one day, but his attitude and maturity have always been a major issue. His two previous NBA coaches were unable to rein him in, but if he ever does mature or buys into Malone's system, watch out because his best is still to come. PG Greivis Vasquez (13.9 ppg/9 apg) is underrated and is a gritty floor leader. SG Marcus Thornton is a solid shooter and will start. Rookie SG Ben McLemore will come off the bench to start the season, but the rookie is talented and athletic, he just needs to take that next step as a player. SF John Salmons does a little bit of everything but nothing overly spectacular. PFs Patrick Patterson and Jason Thompson will likely split time and production at the position. 5ft9 PG Isaiah Thomas is a spark plug off the bench and is the likely 6th man candidate. PG Jimmer Fredette has been a bust so far but new coach Malone may give him another chance to show he belongs in the rotation. This will be a long year in Sacramento who are clearly slowly building around DeMarcus Cousins. Cousins maturation will be key for this team going forward and Malone's a good coach and just may be the guy who can get the best out of him.
5: Phoenix Suns: New Head coach Jeff Hornacek has his work cut out for him this year, his first ever as a head coach. The Suns aren't a good team but there are still some interesting things going on in Phoenix. One of those is the fact that Phoenix will experiment by starting two natural point guards at the same time. Goran Dragic (14.7 ppg/7.4 apg) and Eric Bledsoe (8.5 ppg/3.1 apg) are those guards. Dragic is a more natural point guard while Bledsoe is more of a get-to-the-basket type of scorer. This is Bledsoe's first real shot as a full-time starter so i expect him to have a breakout season. Neither him nor Dragic are great outside shooters however. Rookie C Alex Len is the future of the team at the position, his game fits nice in the NBA, but he will likely have his ups and downs as a rookie. The Morris twins (Markieff and Marcus) will split the PF duties. Marcus is a better scorer and Markieff is the better rebounder. The twins are also better suited playing on the same team than being apart from each other. At SF P.J Tucker and Gerald Green will split time. Green has more upside being that he's a better 3-point shooter. C Emeka Okafor is out indefinitely with a severe herniated disc issue. The Suns will likely be one of the worst teams in the Western conference and maybe the NBA this year.

Southwest Division:
1. San Antonio Spurs: The Spurs are as consistent as a franchise as there is in the NBA and they should be contenders again this season. PG Tony Parker (20.3 ppg/7.8 apg) is one of the best point guards in the game and an MVP candidate. PF Tim Duncan (17.8 ppg/9.9 rpg) had one of his best seasons of his career last year after many thought he was on the decline. His 2.7 blocks per game last year were the 2nd best in his career. SG and 6th man Manu Ginobili still has some explosiveness left and being able to drive to the basket as a lefty will continue to benefit him. Duncan along with Manu Ginobli will be given some nights off during the season from Coach Popovich, but both (if healthy) should again have solid seasons in the twilight of their careers. SF Kawhi Leonard (11.9 ppg/6.0 rpg) is still only 22 and in his third season he will continue to inherit a bigger role for the Spurs. He's the future of his team and he will one day be an all-star since he's a great defender, solid rebounder, and dependable shooter. C Tiago Splitter is solid yet unspectacular. C Aron Baynes has dominated this preseason and though he still a project, he could push for playing time. SG Danny Green is a solid shooter. SG Marco Belinelli was a great pick up, he's a good shooter who will help ease the offensive burden a bit off Danny Green and Manu. The Spurs should still be considered serious title contenders.
2. Houston Rockets: Houston got their man this off-season by signing Dwight Howard. Howard (17.1 ppg/12.4rpg) will benefit being away from the spotlight of L.A and from new head coach Kevin McHale, a hall of famer himself. Dwight could very well improve on his numbers from last year but his issue is still maturity/lack of leadership. SG James Harden (25.9 ppg) is one of the top players in the NBA and he attacks the basket better than most, he's fearless. SF Chandler Parsons is versatile and plays hard and should improve on his breakout season from last year as he's a great fit for this offense. Jeremy Lin will start at PG but 6th man Patrick Beverly is good enough to start at the position as well and should get a lot of playing time. Lin's not a great shooter and I'm not sure he can lead a team to the next level. The Rockets have been trying to play C Omer Asik alongside Dwight Howard. Asik (10.1 ppg/11.7 rpg) had a breakout season last year but i don't think they can be on the court at the same time and be successful, so he may be traded at some point and if not he'll definitely see a decline in production. The Rockets full rotation is unknown at the start of the season. The Rockets will be improved, but i don't think they're championship contenders because I'm still not a believer in Dwight Howard and i don't think the Rockets style of play is ideal for him.
3. Memphis Grizzlies: This is a familiar group from recent years minus one key piece, Coach Lionel Hollins. Hollins is out due to butting heads with the front office over the use of analytics and assistant Dave Joerger takes over. PG Mike Conley (14.6 ppg/6.1 apg) is one of the most underrated players in the NBA. Conley is a true leader and was one of the best point guards in the 2nd half of last season, expect big things again.  The offense runs through all-star C Marc Gasol (14.1 ppg/7.8 rpg). Gasol has a great soft touch for passing the ball and he's tough and durable as well. PF Zach Randolph (15.4 ppg/11.2 rpg) is playing as good as ever and he is a true low-post scorer, something the NBA lacks these days. SF Tayshaun Prince is a solid veteran leader though he battled illness and lost some weight this off-season, his back up Quincy Pondexter could see an increased role this year with Prince ailing and ageing. SG Tony Allen is still a great defender and while not a great shooter, he still contributes on offense. SG Mike Miller is back in Memphis again and when healthy provides instant offense (especially three pointers) off the bench, though he's not a great defender. PG Jerryd Bayless could be in line for a 6th man type of role and will contribute off the bench. Memphis could wind up missing Coach Hollins a bit, Memphis is still a very talented team and should be a contender once again.
4. New Orleans Pelicans: New Orleans, now called the Pelicans, are a young team on the rise. 2nd year PF Anthony Davis (13.4 ppg/8.2 rpg) already has people talking. Some are saying he's a once in a generation type player, and whether that's true or not, Davis is a unique talent who should be in for huge all-star like second season. Davis can rebound, will one day be an elite shot blocker, and is developing a nice touch offensively around the basket. PG Jrue Holiday (17.7 ppg/8.0 apg) was an all-star for the Sixers but played pretty bad at the end of the season. He should bounce back and benefit thanks to being on a  much better team. SG Eric Gordon (17.o ppg) when healthy is an elite scorer, though he's had many injuries over the past few seasons. SG/SF Tyreke Evans will likely come off the bench and could be huge if he can provide offense for the second unit or if Gordon goes down with another injury. SF Al-Farouq Aminu is a solid defender and he's improving his offensive game. C Jason Smith is a real high effort type of guy but has had trouble staying healthy and PF Ryan Anderson is a big man who can shoot and he loves to hustle as well. The Pelicans should battle for one of the final playoff spots thanks in part to Anthony Davis and their off-season moves. And if not this year, the Pelicans should be a force in the West very soon.

5. Dallas Mavericks: While Dallas missed out on a lot of big free agents recently, this year they did bring in a bunch of new players. F Dirk Nowitizki (17.3 ppg) is still the guy in Dallas but dealt with some injury issues last season and at times looked like he was on a quick decline. Dirk's looked decent this preseason and they say they will no limit his minutes so he must prove he can still be the guy for Dallas to be successful. Backup PF DeJuan Blair will contribute off the bench. PG Jose Calderon (11.3 ppg/7.1 apg) was a great pick up as he's one of the more underrated point guards in the NBA. Calderon could have a big season espc in the pick and roll with Dirk, but if he struggles backup Devin Harris has been playing better of late too. SG Monta Ellis (19.2 ppg) is an elite scorer at times but he along with Calderon are liabilities on the defensive end. Veterans Shawn Marion and Vince Carter are the SFs, they're still solid but both aren't nearly as good as they were in recent years. C Samuel Dalembert was signed to be a shot blocker & rebounder and he's the best Dallas currently has in both. F/C Brandan Wright will contribute once he's back from inury.  The Mavs should contend for one of the final playoff spots in the west, but for that to happen these new players will really have to gel together and Dirk has to show he still can be counted on at times.
Western Conference Playoff Seeding Prediction:
1. OKC Thunder

2. L.A Clippers
3. San Antonio Spurs

4. Golden State Warriors
5. Houston Rockets

6. Memphis Grizzlies

7. Minnesota Timberwolves

8. New Orleans Pelicans

Western Conference Championship:  OKC Thunder over Los Angeles Clippers. The West is truly up for grabs this year and any number of teams (Spurs, Warriors, Rockets, Grizzlies) could find themselves playing in the Western Conference finals. I think the Thunder will really hid their stride by the end of the season because by then Russell Westbrook should be back to full health. The Clippers will be much improved with Doc but i think they are beaten by a hungrier and more talented Thunder team and an MVP performance from Kevin Durant. 

© 2013, Eldorado2452. All rights reserved.