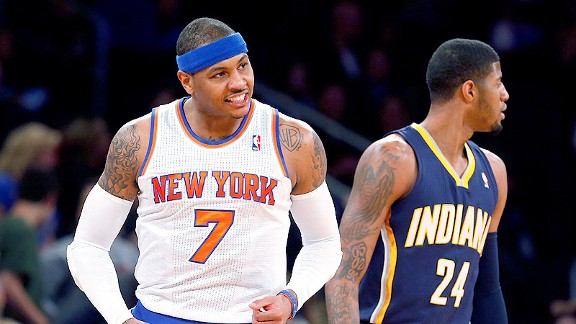 In part 2 of our NBA preview, we'll take a look at each team in the Eastern Conference and some of the big story lines headed into this season. In the East, will the Miami Heat capture their 3rd straight NBA title? Or will the Bulls with D.Rose back capture the East? Or how about the very talented Indiana Pacers or the new look Brooklyn Nets? Without further ado, here is part 2 of the NBA Preview – our look at the Eastern Conference. (For part 1: Western Conference click here) (Teams below shown in order of prediction)
 Atlantic Division:
1. Brooklyn Nets:  First time head coach and former Net Jason Kidd has a talented roster as the Nets made a real splash in the off-season. Kevin Garnett, Paul Pierce, and Jason Terry all came over via a trade with the Celtics. KG will benefit from playing alongside a legit center in Brook Lopez, who will take some of the burden off him. Lopez (19.4 ppg/6.9 rpg) should also benefit from having KG as well now. SF Paul Peirce may not be as explosive as he was but he can still score. Though KG and Pierce will likely see nights off to help keep them fresh. PG Deron Williams (18.9 ppg/7.7 apg) could learn a thing or two from Coach Kidd and Williams will finally need to take that next step if the Nets want to win an NBA title, something i'm not sure he's capable of. Williams is a big key to the Nets success and he must finally live up to his full potential. Backup PG Shaun Livingston looked solid this preseason. SG Joe Johnson (16.3  ppg) is overpaid but is still a great shooter. SF Andrei Kirilenko was an underrated signing as he's a swiss army knife type of player who can do it all. PF Reggie Evans and C Andray Blatche will see production off the bench especially when the veterans need their rest. These versatile Nets will be a force in the East this year, but just how well they do depends on how Coach Kidd brings them together and just how much KG & Pierce have left in the tank.
2. New York Knicks: The big question in NYC is still if the Knicks can win with Carmelo Anthony as their best player. Melo (28.7 ppg) could be playing his final season in NYC since he's a free agent. Melo will score a lot of points as always but he's terrible on defense and doesn't make the players around him better. PF Andrea Bargnani (12.7 ppg) comes over from Toronto and the former #1 draft pick is looking to prove he's n0t a bust. He's a great shooter for his size but he's not a great rebounder. C Tyson Chandler (10.4ppg/10.7 rpg) is a solid defender but has been slowed down a bit recently due to injuries. PF Amar'e Stoudemire will likely be eased into action as he is recovering from injuries as well. PG Raymond Felton is really just a middle of the pack point guard. SG  JR Smith (18.1 ppg) is at times a monster on offense but other times he disappears. Smith, who is also coming off knee surgery, also lacks maturity and will miss the first 5 games due to a suspension. SG/SF Iman Shumpert will battle Smith for minutes and is a solid defender who is improving on offense. SF Metta World Peace also should contribute this season whether as a starter or off the bench. Backup guard 36-year-old Argentine Pablo Prigioni could see an increased role in this his 2nd NBA season. The Knicks should be a playoff team, but i don't see them competing for more than that with this current roster.
3. Toronto Raptors:  The Raptors look like a team on the rise in the East. SF Rudy Gay (18.2 ppg) is the type of player who can win you close games and you want him to take the last shot.  SG DeMar DeRozan (18.1 ppg) is one of the more underrated players in the league, he's super athletic with a great jump shot and he's continuing to get better as a player. But the key to the Raptors success this season will likely be C Jonas Valanciunas who had a great end to the season last year and great summer. Valanciunas is only in his 2nd year but should be in for a breakout season as he's the type of big man you can build a team around. The play of PG Kyle Lowry (11.6 ppg/6.4 apg) will be crucial as well.  Lowry lacks size but plays with a lot of confidence though he's currently dealing with a finger injury. Backup PG DJ Augustin could be needed to pick up production if Lowry struggles. PF Amir Johnson (10 ppg/7.5 rpg) is a bruising rebounder and plays well around the basket. Back up PF Tyler Hansbrough is a high energy bench player and PF Steve Novak is a three-point shooter. SF Terrence Ross can really dunk and is improving as a player. New GM Masai Ujiri, former executive of the year in Denver,  has Toronto moving the right direction and the Raptors should start contending for the playoffs again starting this season.
4. Boston Celtics: Former Butler coach Brad Stevens takes over in his first NBA coaching job and he has his work cut out for him. PG Rajon Rondo (13.7 ppg/11.1 apg)  is recovering from major knee surgery and he's out until December, maybe longer. And when Rondo does come back he could still wind up being traded. PG/SG Avery Bradley (9.2 ppg/2.1 apg) is one of the league's best defensive guards. He will lead the offense until Rondo comes back and should be in for a breakout season. Bradley could put up big numbers with Rondo out and will still contribute if/when Rondo returns. SF Jeff Green (12.8 ppg) does a little bit of everything and should have a solid season in his 2nd year back from his heart issue. Veteran SF Gerald Wallace is starting to break down from his crashing style of play but will still be a nice all-around contributor. Rookie C Kelly Olynyk is a dark horse candidate for rookie of the year. The big man from Gonzaga can shoot the ball and should be given many opportunities to score as a rook. Power forwards Brandon Bass, Kris Humphries, and Jared Sullinger should battle for minutes all year at their position. While the Celtics have some pieces, none of them fit seem to fit together. Boston is in rebuilding mode and will likely be playing for a good draft position.
5. Philadelphia 76ers:  Philly is going to be really bad this season, but that's all part of their rebuilding plan. So what are the positives on this team? Well they're not going to play draft pick Nerlens Noel at all this season. They'll give Noel the season to recover from his knee injury in hopes of coming back big next season. SF/PF Thad Young (14.8 ppg/7.5 rpg) is a smart defender and versatile scorer who can do a little bit of everything on both ends of the floor. He's the best trade chip the Sixers have however and could be traded during the season if the Sixers are really in full rebuild mode. C Spencer Hawes (11.0 ppg/ 7.2 rpg) is frustratingly inconsistent. PF Lavoy Allen (5.8 ppg/5 rpg) must continue to improve as more will be asked of him this season. Philly will depend on rookie PG Michael Carter Williams to immediately run the show which may be overwhelming for him and could affect his development. Tony Wroten could see an increased role if MCW fails to adjust to the NBA game quickly enough. SG Jason Richardson looks out of shape and about 20 lbs overweight which is obviously never a good thing. The Sixers clearly have their eye on next year's draft in hopes of getting one of the top picks. They could be historically bad this season, and that's all part of the plan. But whether it pays off or not remains to be seen and is a big risk.
Central Division:
1. Indiana Pacers: The Pacers, looking to build of last year's post season success, should be considered serious title contenders going into this season.  SG Paul George (17.4 ppg/7.6 rpg) had his coming out season last year and is close to being a true superstar in the league. He's a great all around player at his position, but can he be the guy and perform when the pressure is on him? C Roy Hibbert (11.9 ppg/8.3 rpg) is a force and where he lacks in athleticism, he makes up for in other aspects of his game. Hibbert's play in the post will be key against the other strong teams in the East. PF David West (17.1 ppg/7.7 rpg) is a great compliment to Hibbert because West's offensive game can help space the floor. PG George Hill (14.2 ppg/4.7 apg) is a good not great all around point guard, but should continue to improve in his second year as the team's point guard . SF Danny Granger's health could keep him in and out of the lineup all season long. This used to be Granger's team and if he is healthy and can accept a supporting role he could propel them to a championship, if not he could be traded. SG Lance Stephenson will get heavy minutes either off the bench or as a starter (if Granger's injury issues keep up). PF Luis Scola will come of the bench but is good enough to be a starter himself. The Pacers lack of a strong bench hurt them last season, but it shouldn't this year. The Pacers should be considered one of the favorites in the East this year and a trip to the Finals is a real possibility. 
2. Chicago Bulls: Good news Bulls fans, PG Derrick Rose is back and he say's he's better than ever. Rose took a lot of heat for sitting out all of last season (including the playoffs) but he should immediately go back to playing at an all-star/MVP level. C Joakim Noah (11.9 ppg/11.1 rpg) is the key to the Bulls defense. Noah is a high energy, hardworking defender who backs down from no challenge. PF Carlos Boozer (16.2 ppg/9.8 rpg) is a productive big man, but he never dominates like you feel he sometimes should. SG Jimmy Butler (8.6 ppg) should be in for a breakout season as he's a solid defender who also is still improving as an offensive player. SF Luol Deng (16.5 ppg) has led the NBA in minutes per game the past two seasons and he's also more important to the Bulls than many people realize. Backup guard Kirk Hinrich should contribute off the bench as he provides veteran leadership. PF Taj Gibson has the potential to be a 6th man of the year and is a very nice piece of the bulls bench. Chicago also brought in SF Mike Dunleavy to provide depth and be a shooter off the bench who can spread the floor when they need it. The Bulls will challenge the Pacers for the division and should also be considered serious NBA title contenders especially if Derrick Rose is back to his old self.
3. Cleveland Cavaliers:  Former Cavs coach Mike Brown (who coached during the LeBron era) is back and he inherits a talented team with some nice parts. PG Kyrie Irving (22.5 ppg/5.9 apg) could be a future MVP. While he could improve on his floor leadership a bit, Irving is a dynamic offensive player, and if healthy gives the Cavs a shot at the playoffs. SG Dion Waiters (14.7 ppg)  is a talented shooter who needs to show more discipline and he will be pushed by PG/SG Jarret Jack who will contribute even if it means coming off the bench. C Anderson Varejao has a tough time staying healthy, but is a solid defender and rebounder when he is healthy. PF Tristan Thompson (11.7 ppg/9.4 rpg) isn't a big time scorer, but he's a solid rebounder and should benefit playing alongside Varejao. C Andrew Bynum has his health issues as well, he hasn't played yet for the Cavs but if they can ease him back and he can play up the levels he played at for the Lakers, he'll be a huge get for the team. This year's surprise #1 draft pick SF Anthony Bennett has struggled with conditioning, but he has a nice offensive touch and can rebound. SG/SF Alonzo Gee is a good fit for Mike Brown's system. The Cavs are close to being a playoff team again, but it all comes down to health. But I think they make their first playoff appearance of the post-lebron era thanks to Kyrie Irving

4. Detroit Pistons: Detroit has two new starters and two up and coming big men, but will the pieces all fit? PG Brandon Jennings (17.5 ppg/6.5 apg) isn't a true point guard but should have a solid season. Jennings will miss a few games with a fracture jaw. His back up veteran Chauncey Billups should help him and the team on and off the court. Billups will take games off due to his age but i think he'll be more of a coach for this team than new head coach Mo Cheeks. SF Josh Smith (17.5 ppg/8.4 rpg) is a poor shooter but a stat filler everywhere else. C Andre Drummond has great size and athleticism and should continue to improve in his second season. PF Greg Monroe (16 ppg/9.6 rpg) should be close a double double guy every game as long as he's healthy. Drummond and Monroe should be a great inside duo for years to come and something Detroit can build around. PG/SG Rodney Stuckey should provide solid contribution off the bench for most of the season. Rookie SG Kentavious Caldwell-Pope needs to improve and adjust to the NBA game, but he provides a lot of upside as a perimeter shooter.  Detroit should definitely contend for one of the final playoff spots in the East, and while i love their big men, I'm not sold on the additions of Jennings and Smith.
5. Milwaukee Bucks: There's a lot of new faces in Milwaukee and that's not a good thing. PG Brandon Knight came over via the Jennings trade with the Pistons. Knight turns the ball over a bit too much, doesn't get enough assists, and isn't a good scorer. His back up Luke Ridnour  should contribute a lot of the bench and really should be the starter.SG OJ Mayo (15.3 ppg) is a scorer that hasn't shown in his career that he can come through when counted on. SF Caron Butler (10.4 ppg) will provide some production across the board but he's nowhere near the player he used to be. C Larry Sanders (9.8 ppg/9.5 rpg)  is a familiar face but the Bucks overpaid to keep him this off-season. Sanders doesn't has extremely limited offensive potential but he is a good defender and rebounder. PF/SF Ersan Ilyasova (13.2 ppg/7.1 rpg) can shoot threes and rebound. PF John Henson has the potential to be a difference maker both on offense and defense. He's long and slender which could provide mismatches on offense and defense. Henson should have the opportunity this year to show what he can do. The Bucks roster lacks real star power and frankly just isn't very good. Milwaukee will likely find themselves towards the bottom of the Eastern Conference this year. 

Southeast Division:
1. Miami Heat: The Heat will be chasing their 3rd straight NBA title and having Lebron James, the best player in the NBA right now on their team, anything is possible. James (26.8 ppg/8.0 rpg/7.3 apg) will again have an MVP like season but will it be enough? SG Dwayne Wade (21.2 ppg) no longer attacks the rim like he used to and has lost a lot his explosiveness. I expect the Wade decline to continue due to wear and tear. C Chris Bosh (16.6 ppg/6.8 rpg) is a jump shooting big man but he needs to step his game up this season especially if Wade continues to go downhill. PG Mario Chalmers is unspectacular and his backup Norris Cole should contribute as well.  SG Ray Allen  (10.9 ppg) is another year older but can still hit a big shot or two. PF Udonis Haslem has been around for 3 Miami Heat championships. SF Shane Battier and PF Chris Anderson are bench players who provide sparks off the bench especially on defense. Who takes the three-point shots now that Mike Miller is gone? Rashard Lewis? Miami took a risk signing "draft busts" F Mike Beasley and C Greg Oden. If Beasley gets his mind right and/or Oden is healthy, they could be pieces that put Miami back on top. The Heat will contend for an NBA title again this year, but the East is tough and if they don't get it done there should be major changes this off-season when LeBron can opt for free agency.
2. Washington Wizards: The Wizards are looking to build off a solid end of the season and get themselves back to the NBA playoffs. When John Wall (18.5 ppg/7.8 apg) was healthy last year the Wizards looked like a playoff caliber team.  Wall may never be a great shooter but he is athletic up-tempo point guard who will continue to improve his al around game. SG Bradley Beal (13.9 ppg) is starting to look like a great NBA shooter and could be in for a breakout season. Wall & Beal could be very exciting to watch for years to come. SF Trevor Ariza is a good fit for this uptempo offense as he is athletic and can shoot the three. PF Nene (12.6 ppg/6.7 rpg) has struggled with injuries recently. Nene has shown glimpses of his old self and the Wizards will benefit if Nene can stay healthy for a full season. C Martin Gortat came over in a trade during the preseason and though his stats are likely to drop from last season, he's a great addition as he takes pressure of Nene and allows him to play PF which is his natural position. C Kevin Seraphin should contribute off the bench. Rookie Otto Porter Jr has missed most of the preseason with an injury and could struggle as rookie but SF Martell Webster should contribute in his place. Washington will be in the playoff hunt this season and i think they'll get one of the final spots in the East.
3. Atlanta Hawks: Atlanta now has two strong PFs Paul Milsap (14.6 ppg/7.1 rpg) and Al Horford (17.4 ppg/10.2 rpg), though Horford will likely play center. Both players will want the ball on the block and neither of them can really stretch the floor. While i like both players, i don't like them together in the same starting lineup which is going to happen this year. Josh Smith (now with Detroit) was a better fit alongside Horford. PG Jeff Teague (14.6 ppg/7.2 apg) could have a breakout season under new coach Mike Budenholzer as he's a perfect fit for the system. G/F Kyle Korver (10.9 ppg) can keep pressure off the bigs by spacing the floor. He's a great outside shooter and also an underrated defender. SF DeMarre Carroll is a high energy complimentary type of player.  German Rookie PG Dennis Schroder will come off the bench but he's an intriguing prospect as he's got a Rajon Rondo like offensive look to him. Veteran PF/C Elton Brand will provide much-needed production off the bench anytime Horford or Milsap need a rest. SG Lou Williams is out until around December as he recover from a torn ACL. Atlanta could contend for one of the final playoff spots in the East, but I think losing Josh Smith and the uncertainty surrounding Lou Williams will have the Hawks on the outside looking in come playoff time.
4. Charlotte Bobcats: Charlotte paid a lot of money ($41 million) to bring in C Al Jefferson. Jefferson (17.8/9.2 rpg) can give you almost 20 points and 10 rebounds every night and is one of the more underrated players in the NBA. Rookie PF Cody Zeller is an athletic big who can stretch the floor a bit and is a  great fit alongside Jefferson. Zeller should be in the running for rookie of the year.  PG Kemba Walker (17.7 ppg/5.7 apg) is still trying to develop into a playmaking PG but Kemba is a fearless scorer. SF Michael Kidd-Gilchrist (9 ppg) needs to improve as a shooter if he ever want to come close to living up to his draft #, sadly he's looking more like a bust than anything else. SF Jeff Taylor could push MKG for minutes as Taylor is a great shooter who is starting to come into his own. SG Gerald Henderson (15.5 ppg) should continue to be one of the Bobcats leading scorers and one of their better all-around players. SG Ben Gordon (11.2) should be in line for a 6th man type of role which suits him well. C Bismack Biyombo will likely never develop an offensive game (he's terrible), but he can rebound well and is one of the better shot blockers in the NBA so he will continue to get minutes even though he's a liability on offense. The Bobcats have made the playoffs just once, and while i don't think they aren't there yet, they're finally making signs of real progress.

5. Orlando Magic: The Magic are still trying to move on from the Dwight Howard era, and while they're not there yet, they are starting to put some things together. C Nikola Vucevic (13.1 ppg/11.9 rpg) was a real surprise from the Dwight Howard trade as he has shown some real growth as a player. Vucevic, who  was really considered a minor piece in the Dwight trade, was the 2nd leading rebounder in the league last year and he also has a nice offensive touch. He's a true center and could become an all-star if he continues to improve his game. Rookie SG/PG Victor Oladipo will have ups and downs but should be considered the leading contender in the rookie of the year race. Oladipo, a SG in college, is learning the PG position but he's a real athlete and strong defender who should transition nicely. SG Arron Affalo (16.5 ppg) can attack the basket and shoot the three, he will benefit from having Oladipo around this season as well. F Tobias Harris came out of nowhere and had a huge end of the season which he will try to build on this year.SF Maurice Harkless has shown flashes of potential. He's a slashing wing player who also can come up with a few steals. Orlando will likely find themselves at the bottom of the Eastern conference, but there's some real nice pieces moving forward as a franchise as they continue to rebuild post Dwight Howard.
Eastern Conference Playoff Seeding Prediction:
1. Miami Heat

2. Indiana Pacers

3. Brooklyn Nets

4. Chicago Bulls

5. New York Knicks
6. Washington Wizards

7. Toronto Raptors

8. Cleveland Cavaliers

Eastern Conference Championship:  Indiana Pacers over Chicago Bulls. Wait, no Miami Heat? Yes they'll be good again but i think the odds are against them and truthfully i just think the Bulls and Pacers will be better teams this year.  I think the Pacers will edge out the Bulls in a long and physical Eastern Conference Championship.
NBA Championship: OKC Thunder over Indiana Pacers.  I've been a firm believer that the OKC Thunder will win an NBA championship and I think it finally happens this season. Durant will play like an MVP and come playoff time, a healthy Russell Westbrook puts the Thunder over the top.
via @JustinBurkhardt) & 99problems.org
© 2013, Eldorado2452. All rights reserved.