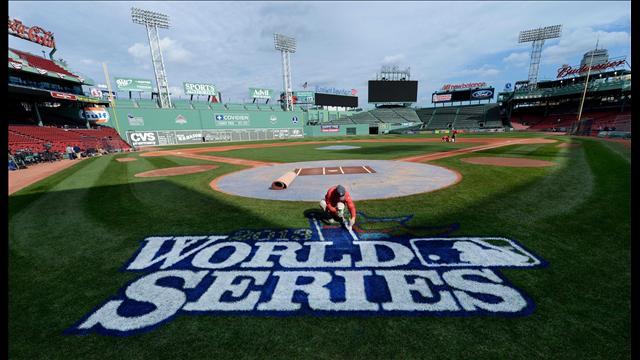 Cardinals out of the National League and the Boston Red Sox out of the American League. These teams do have some World Series history as they have met in the Fall Classic three times before this, the most recent coming in 2004 where the Red Sox swept the Cardinals 4 games to 0. St. Louis is seeking their 12th World Series title as a franchise, their most recent coming in 2011.  While Boston is looking for their 8th World Series title, their most recent coming in 2007.  Not many could foresee this World Series coming before the season, but with two of the strongest fan bases in baseball, a lot of fans are happy with this match-up.
St. Louis Cardinals: Line up: At catcher, Yadier Molina is one of the best in baseball and the team's leader. He can hit for power and is one the best defensive catchers in baseball. Rookie Matt Adams will play first base. He had a solid rookie season with 17 homers and 51 RBIs but is still inexperienced. DH Allen Craig (who also plays first base) hasn't played due to injury since September 4th, but he still finished the season as the Cardinals RBI leader with 97.  The Cardinals have had this postseason run without Craig, and if he's healthy he could be what puts the Cardinals over the top. Matt Carpenter is a major leaguer on the rise at 2nd base. Carpenter, a world series MVP candidate, led the majors in doubles and hits this season, his 2nd year as a full-time major leaguer. At shortstop, Pete Kozma is a promising player, and while his defense is solid, he struggles at the plate and is the weak link in the lineup offensively. 3rd baseman David Freese was an important part of the 2011 World Series team, though he's had a rough postseason so far due to injuries and inconsistency. Right fielder Carlos Beltran is one of the best postseason players in baseball history. Beltran has a career.337 postseason average with 16 home runs and 37 RBI. Matt Holiday plays in left field and though he's struggled a bit this postseason, if he gets hot he's a lethal bat that can hit for power and average. At center field John Jay is average both at the plate and in the field, though Shane Robinson who had a strong NLCS could play as well. And while the Cardinals lacked power numbers this season hitting (they were 27th in the majors with only 125 home runs) St. Louis was still third with 783 runs scored which was tops in the National League.
Pitching: The Cardinals have a true ace in Adam Wainwright who will pitch game 1. Wainwright is one of the best pitchers in baseball, having the 3rd lowest ERA among qualified starting pitchers since 2007 with a 3.10 ERA. Wainwright is 4-1 with a 2.10 in 16 playoff appearances, 7 of which were starts. Rookie phenom Michael Wacha will pitch game 2. Wacha only pitched 64 2/3 innings during the regular season but has pitched like an ace this postseason. Wacha is 3-0 with a 0.43 ERA in three starts this postseason . Wacha, who won the NLCS MVP, has only given up 8 hits and 1 run in 21 innings this postseason. Wainwright and Wacha will pitch 4, and likely 5 of the 7 games if necessary this World Series. The pitchers in games 3 and 4 will likely be Joe Kelly and Lance Lynn, solid pitchers who helped the Cardinals rotation this season finish 3rd in the majors in rotation ERA. Their bullpen has been strong this postseason. Closer Trevor Rosenthal has been a force since taking over the role in September. Rosenthal 23 & in his 2nd season, has yet to allow a run this postseason and has three saves and nine strikeouts in seven innings. Carlos Martinez (8th inning guy), John Axford, and Kevin Siegrist bolster a strong bullpen.
Manager: Mike Matheny, a former great defensive catcher who was a player for the Cardinals from 2000-2004, is in his second season as the Cardinals' manager. Matheny lead the Cardinals to a  97-65 record this season. Last season (Matheny's first) the Cardinals were 88-74 and made it all the way to the NLCS where they lost to the Giants who wound up winning the World Series.
Boston Red Sox: Line up: At catcher, Jarrod Saltalamacchia had a solid driving in 65 runs & he's also improved a bit defensively as well.  Mike Napoli will play first base while the Sox are at home. Napoli has some outstanding bat power but has always lacked consistency. Napoli started to heat up a bit in the ALCS and if he gets hot he could put the Sox over the top. David Ortiz will DH and then play first base when the series moves to St. Louis. Outside of his grand slam in the ALCS, Big Papi has slumped a bit this postseason. Ortiz however is still one of the toughest outs in baseball being that he can hit for power, from both sides of the plates, and hit lefties. Napoli is definitely the better defensive first baseman however.Dustin Pedroia is not only a great second baseman he's also a great leader for the Sox. He had a thumb injury this year that hurt his power a bit and limited him to only 9 home runs this season, but is still a formidable threat at the plate . Pedroia is also a great base-runner and star defensively. Shortstop Stephen Drew hasn't produced this postseason but he's still a grinder at the plate and is a better than average fielder. At third base, 21 year old prospect Xander Bogaerts took over for Will Middlebrooks late in the ALCS. Middlebrooks has power but also can be one of the easiest outs in the lineup. Bogaerts may already be a better hitter than Middlebrooks but he has almost no experience at the major league level. In left field, Johnny Gomes had some huge hits this season but Daniel Nava can really get on base as well and you could see a platoon in left field this world series. Center fielder Jacob Ellsbury's power numbers have fallen off a bit but he's always a threat to get on base either with a hit or walks. And when he gets on base watch out as Ellsbury led the majors in stolen bases with 52. His speed is also a strength in the field.  Shane Victtornio has been better than most expected in right field for the Sox. Victorino has National League and World Series experience, but outside of his grand slam versus the Tigers, Victorino struggled hitting going only 3-for-24 in the ALCS. The Red Sox offense lead the majors with 853 runs scored this season including 178 home runs (good for 6th best in the majors).
Pitching: Red Sox ace Jon Lester will pitch game one. Lester, who has been especially consistent his whole career during the postseason, has 2.33 ERA in three starts this postseason.  The Sox will use veteran John Lackey as their starting pitcher in game 2.  Lackey has been a significantly better pitcher at home than on the road. The pitchers haven't been named beyond game 2 but in games 3 and 4 you should expect to see Clay Bucholz and Jake Peavy, likely in that order. Bucholz was 12-1 as a starter this season, but was out with an injury from June 18th til September 10. Peavy, a former Cy Young winner was traded to the Red Sox during the season, but gave an awful performance in the ALCS giving up 7 runs in three innings versus Detroit. The Red Sox bullpen has been great during their playoff run. Closer Koji Uehara and relievers Junichi Tazawa and Craig Breslow form a strong Boston bullpen. Uehara won the American League Championship Series MVP. In 6 inning pitched Uehara had 3 saves, 1 win and 0 runs allowed during the ALCS. Uehara was the Red Sox third choice as closer this season, but because of injuries he took over and really has been dominant ever since.
Manager:  John Farrell, a former major league pitcher, is in his first year as Boston's manager. Farrell is the former manager of the Toronto Blue Jays and was also once Boston's pitching coach under manager Terry Francona. The Red Sox were also 97-65 during the regular season. Boston, finished last in the AL east in 2012 with a 69–93 record. This season they became the 11th team in major league history to go from worst in the division to first the next season.
Prediction: Cardinals over Red Sox in 7 games. On paper this looks to be one of the most evenly matched World Series in recent memory. Both teams have solid starting pitching, strong bullpens, and a potent offense. Each team won 97 games this regular season and lead their leagues in wins. Both the Red Sox and Cardinals have had special seasons and you could even say both have that "team of destiny" look to them. But i'm going with the Cardinals to win in 7 because of of one thing, their pitching. I think the Cardinals starting pitching will be outstanding and the bullpen will shut the Red Sox down late in games. I'll also go with Carlos Beltran as winning the World Series MVP and adding to his already impressive career postseason resume.
So who do you think is going to win the World Series this year?
Schedule: (All games broadcasted on FOX.  First pitch at 8:07pm EST except where noted)
Game 1: Wednesday, Oct. 23, St. Louis at Boston
Game 2: Thursday, Oct. 24, St. Louis at Boston
Game 3: Saturday, Oct. 26, Boston at St. Louis
Game 4: Sunday, Oct. 27, *first pitch at 8:15pm EST, Boston at St. Louis
Game 5 (If necessary): Monday, Oct. 28, Boston at St. Louis
Game 6 (If necessary): Wednesday, Oct. 30, St. Louis at Boston
Game 7 (If necessary): Thursday, Oct. 31, St. Louis at Boston
Via Justin Burkhardt & 99problems.org
© 2013, Eldorado2452. All rights reserved.