In what was a game for the ages last night in the Mercedes Benz Superdome in New Orleans in Super Bowl 47, the Baltimore Ravens defeated the San Francisco 49ers 34-31 to become the 2012-13 NFL Super Bowl Champions.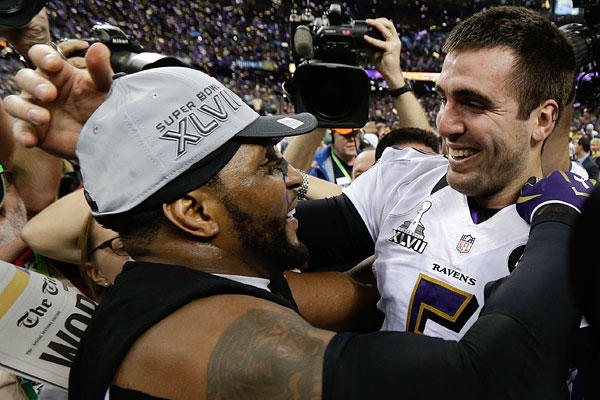 Ravens quarterback Joe Flacco completed 22-of-33 passes for 287 yards and three first-half touchdowns Sunday and was named  Super Bowl MVP although I feel like Ravens wide receiver Jacoby Jones who had the two biggest plays of the game (a 50 yard TD reception on 3 and 7 and a 108 yard kickoff return to start the half) should have won the Super Bowl MVP.
Ravens linebacker Ray Lewis finished the game with 7 tackles and will retire from the NFL as a two time Super Bowl champion.
I selected the Ravens to represent the AFC in the Super Bowl during my preseason picks this seasonn but I chosse the 49ers to win it all once the two teams won their respective conference championship games. I must tip my cap to the entire Ravens staff who have overcome the lost of Art Modell (Ravens former owner), the lost of Torrey Smith's younger brother (Tevin) and a gang of injuries including injures to Terrell Suggs, Ray Lewis and Ed Reed but yet stood tall and played big on the NFL's biggest stage.
Salute to the Ravens organization and the city of Baltimore.
© 2013, Eldorado2452. All rights reserved.