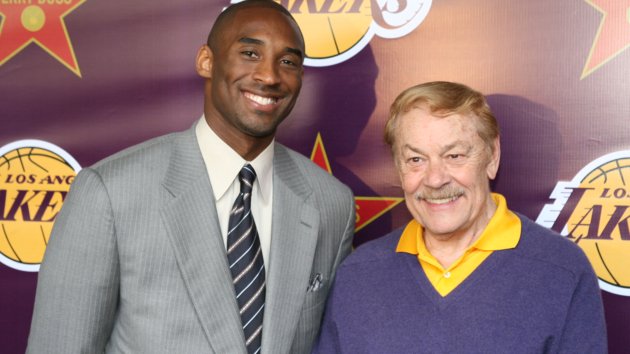 Los Angeles Lakers owner Jerry Buss, who presided over a team that won 10 NBA titles and showcased some of the biggest names in professional basketball, died Monday. He was 80.
Buss had been suffering from an undisclosed form of cancer. He died at Cedars-Sinai Medical Center in Los Angeles, where he had been in and out of the hospital for several months.
Under Buss' ownership, the Lakers won NBA titles in 1980, '82, '85, '87, '88, 2000, '01, '02, '09 and '10. Among the all-time greats who played for the Lakers during Buss' tenure were Kareem Abdul-Jabbar, Magic Johnson, James Worthy, Byron Scott, Shaquille O'Neal and Kobe Bryant.
Buss was credited with introducing "Showtime" to Los Angeles, bringing entertaining basketball to the Entertainment Capital of the World. He once said his goal was to make the Lakers synonymous with Los Angeles, which had been a Dodgers town up until the time he bought the team. Most would say he succeeded.
Buss bought the Lakers — along with the Los Angeles Kings, the Forum and real estate in central California, from Jack Kent Cooke in 1979 for $67.5 million. Forbes magazine now estimates the Lakers are worth $1 billion, second to the New York Knicks among NBA franchises.
Recently, Buss had passed the day-to-day operation of the teams on to his children, Jim (who oversees basketball operations) and Jeanie (who oversees the business side of the franchise). He was involved, however, in the offseason acquisition of Steve Nash and Dwight Howard, and with the inseason coaching move of Mike Brown's firing and Mike D'Antoni's hiring.
Buss reportedly had been hospitalized several times in the past two years. The Lakers confirmed he was in the hospital in December 2011 for blood clots in his leg, which they said was caused by excessive travel.
He has not attended a game this season.
Buss graduated from USC, where he received a doctorate in physical chemistry. He was born in Salt Lake City and attended the University of Wyoming as an undergraduate.
Buss was born on Jan. 27, 1933 as Gerald Hatten Buss. He made his money in real estate, starting with a $1,000 investment in a Los Angeles-area apartment building. At one point in his life, he owned Pickfair Mansion in Beverly Hills, a famous estate once owned by actress Mary Pickford.
He also was a noted poker player, making frequent trips to Las Vegas as well as local casinos. He was third in the 1991 World Series of Poker seven-card stud event.
via ESPN
© 2013, @BWyche. All rights reserved.