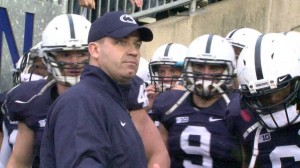 Penn State and UCF Set for Opening Game in Ireland
The desire for an international fan base for American college football has been one the NCAA's priorities. In the 2014-2015 season, the NCAA accomplished a piece of their goal to hold games overseas.
Penn State Nittany Lions and University of Central Florida Knights will open their 2014 season in Dublin, Ireland, Penn State announced Sunday morning.
The game will be held at 1:30 p.m., that's 8:30 a.m. ET, at Croke Park in central Dublin.
Penn State coach Bill O'Brien is taking on his second year as head coach for the Nittany Lions after Paterno/Sandusky scandal broke late last year. Penn State was very optimistic about their upcoming 2012-2013. They played with a newfound confidence under O'Brien. Their record was 8-4 last season. In fact, 2012 was a great year for him coaching wise. He was awarded Paul "Bear Bryant Award, Big Ten Coach of the Year award, Maxwell Coach of the Year award, and AT&T-ESPN Coach of the Year.
Penn State O'Brien Comments
According to ESPN.com, "We are thrilled to announce that we will play UCF at Croke Park to open the 2014 season," Bill O'Brien said in the release. "Our players and coaches are so excited to go to Ireland and play a college football game in such a historic and outstanding venue. I have great respect for coach [George] O'Leary and his team, and playing UCF in Ireland will be a fantastic experience for all the players, coaches and fans."
It's amazing how much of a turn around Penn State football is making. First, their program was praised under the leadership of the late Joe Paterno. Next, their program was going under due to the actions of Jerry Sandusky. Fans were skeptic of how the Nittany Lions were going to move forward. However, they are on their way to doing it.
Penn State is still slowly but surely removing the negativity from their name. This international game in 2014 is an attention grab to build football presence in other countries. The NCAA picked deserving teams to do so.
With UCF being an advocate for minorities and diversities, they too could be targeted as a great team to promote fan base expansion. Last season the Knights, new members of the American Athletic Conference, finished with a 9-4 record under head coach George O'Leary.
This upcoming 2013-2014 season will be exciting. Penn St and UCF will preview their international game Saturday, September 14 at University Park.
Photo Credit: http://gcobb.com/2013/01/14/bill-obrien-still-standing-strong-at-penn-state/
© 2013, @BWyche. All rights reserved.