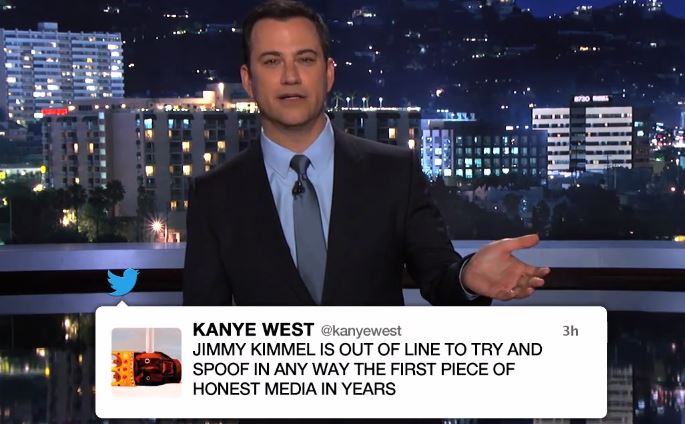 So long story short, after seeing Jimmy Kimmel's Kids Spoof Zane Lowe Interview Kanye West went on one of his signature rants this time VIA Twitter:
"JIMMY KIMMEL IS OUT OF LINE TO TRY AND SPOOF IN ANY WAY THE FIRST PIECE OF HONEST MEDIA IN YEARS. JIMMY KIMMEL, I DON'T TAKE IT AS A JOKE…. YOU DON'T HAVE SCUM BAGS HOPPING OVER FENCES TRYING TO TAKE PICTURES OF YOUR DAUGHTER. JIMMY KIMMEL PUT YOURSELF IN MY SHOES … OH NO THAT MEANS YOU WOULD HAVE GOTTEN TOO MUCH GOOD P*SSY IN YOUR LIFE… YOU CAN'T PUT YOURSELF IN MY SHOES. YOUR FACE LOOKS CRAZY… IS THAT FUNNY?… OR IF I HAD A KID SAY IT WOULD IT BE FUNNY??? SHOULD I DO A SPOOF ABOUT YOUR FACE OR YOU F***ING BEN AFFLECK…#NODISRESPECTTOBENAFFLECK #ALLDISRESPECTTOJIMMYKIMMEL! I LIKE YOU, YOU KNOW ME, I WENT TO YOUR FAMILY'S WEDDING. WHO YOU MADE IT CLEAR TO ME WASN'T YOUR FAMILY WHEN I WAS ON THEN PHONE WITH YOU 5 MINUTES AGO, YOU MANIPULATIVE MEDIA MUTHERF***ER. SARAH SILVERMAN IS A THOUSAND TIMES FUNNIER THAN YOU AND THE WHOLE WORLD KNOWS IT!!!"
Jimmel Kimmel addressed the rant by Ye on his late night show:
The tweets and the streets meet yet again, leave your thought's in the comments below folks!
© 2013, @quinelleholder. All rights reserved.