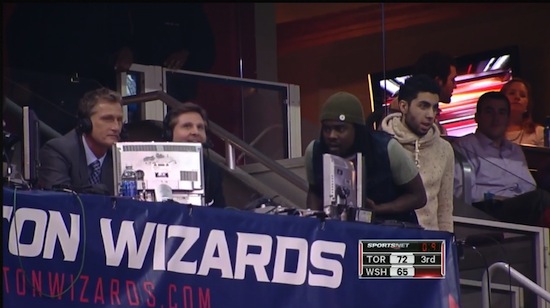 DMV native and Maybach Music Group hip-hop star Wale is far from an inspiring artist still looking to make a name for himself but don't tell the Announcers of the Toronto Raptors Matt Devlin and Leo Rautins that. As Rudy Gay and his Toronto Raptors were beating Wale's hometown Washington Wizards, Rudy made a comment to Wale who was trashing talking from his courtside seat and the Raptors Announcers, Rautins and Devlin just took off with jokes and disses toward Wale even as far as saying "He's not Drake that's for sure". Once Wale got word of the disses he made his way to the announcers booth to formally introduce himself. Toronto went on to win the game 96-88.
Watch the videos below:
Once Wale got word he had a few words for the Announcers
© 2013, Eldorado2452. All rights reserved.