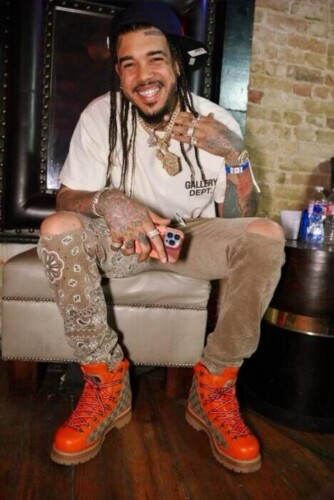 Trap McCoy is an American artist, musician, and businessman who was born in Birmingham, Alabama on February 28th, 1988. Trap has his clothing brand, "TrapSavers," which, according to the artist, combines his music with art, resulting in a superb wardrobe collection. His company was founded to elevate music to new heights. Imagine liking a line or enjoying a song's vibe and then being able to get that same feeling in clothes; that's what Trap is delivering his consumers, music in the form of fashion; how cool is that!!! Trap's brand mission is to protect culture by maintaining the edge that sharpens creativity. Trap strives to focus on the "CULTURE of CREATION" as a whole in all he does, from his music to the TrapSavers brand. His brand combines music and clothing to produce vibrant images that convey the spirit of creation. The brand wants to emphasize the hustle, innovation, and "SOUL of TRAP CULTURE" because the name "TRAP" is generally associated with negativity. It's more than just clothing and music; it's a movement.
Trap has been making music since 2012. He's been in the music business for quite some time. He merely collaborates with his employees, who were at the time better musicians, on hooks and verses. Trap has recently opted to pursue a solo music career. A person's life is always impacted by someone special. Trap credits his wife, Snow McCoy, as his source of inspiration. Trap is kept focused by her, and she encourages him to get the greatest possible results in everything he does. Let It Snow, a song dedicated to her will be published in the early spring of 2022. Check out "Star Status," which is available on 57 platforms including Apple, Spotify, SoundCloud, Peloton, and more. Trap McCoy's journey is chronicled on his YouTube channel, which features personal vlogs, behind-the-scenes looks at music video shoots, and daily living. Make sure to subscribe to his YouTube channel if you want to stay up to date with him. His song was also recently featured on the Instagram feeds of NoJumper and Detroit Rap News (check it out).
This year during SXSW, Trap will be featured at Street Verified on 3.16, Jambalaya on 3.17, DJ Holiday's Hollipalooza on 3.18, and From the Block on 3.19.
In the spring, new TrapSavers will be launched, so don't miss out!!! To learn more about the artist, follow @trapmccoy on Instagram and @TrapMccoy on Twitter. Don't forget to check out his apparel website, http://www.trapsavers.com, for a look at his excellent wardrobe
© 2022, Tedfuel. All rights reserved.