PRE-SAVE / TOUR TICKETS HERE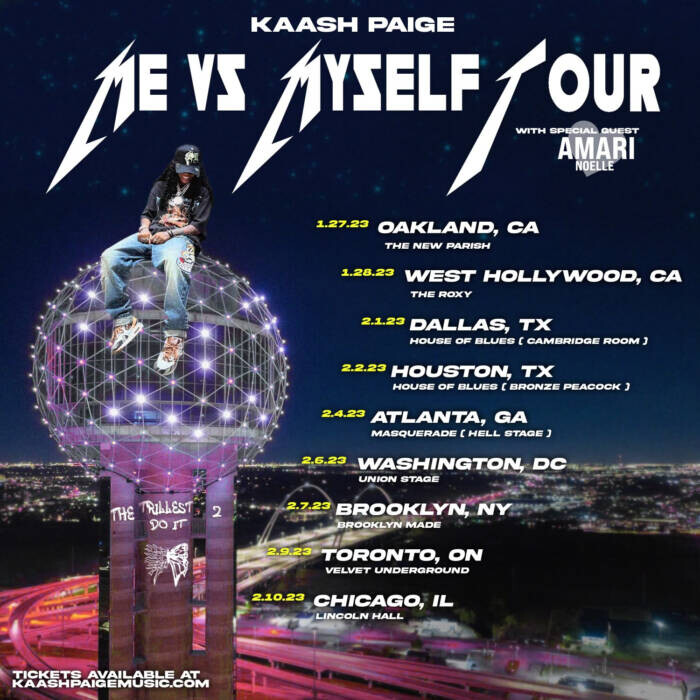 Kaash Paige – the critically acclaimed Def Jam phenom who in two short years took her brand of woozy, DIY R&B from a Dallas dorm room to festival stages around the world, announces her new upcoming project S2ML (Soundtrack 2 My Life), set to release tomorrow, November 18, 2022. In addition to promoting her new project, Kaash Paige will be going on a US Tour in early 2023, stopping in major cities like Brooklyn, NY, Los Angeles, CA, Atlanta, GA, and more. This announcement follows Kaash Paige's recent single "Doubted Me" which has gained attention from Billboard, XXL, Revolt, etc.
S2ML (Soundtrack 2 My Life) is about Kaash Paige's comeback season. The world will get an inside look on who Kaash Paige is. Paige took a two-year break to get everything back in order, "it's almost like I fell off the face of the to create a unique sound where people know it's me" says Kaash Paige. "Going through every emotion possible in the process. You fall off mentally not knowing what's next… This album needs to be relatable to the people that sometimes feel lost but never give up. There's nothing wrong with being a real human being because life's not perfect and I as once you enter a new realm of growth you finally see that this is normal… Greatness can not be rushed, enjoy!"
Rolling Stone has praised 21-year-old Kaash's "passionate, gorgeous" music, and NPR raved, "the woozy-sounding R&B songs produced by Grand Prairie's Kaash Paige are reminiscent of artists like SZA and Kehlani."
© 2022, alanna. All rights reserved.