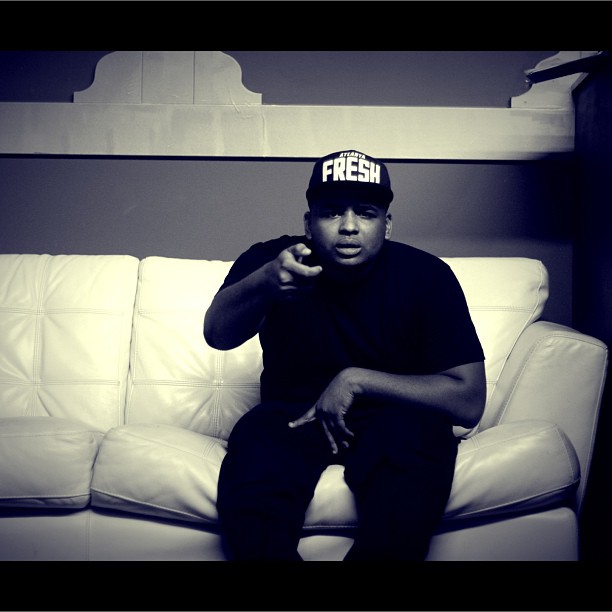 Even before I started blogging and cover artist for HHS1987 I always had a knack for digging up new talent …or maybe it was just me being in the right place at the right time. A couple days ago a producer friend of mine dropped off some Mike Fresh in my inbox and claimed that he was the next big thing coming out of ATL. I know…I know…"The Next Big Thing" is a high standard to live up to, but the talented MC repping ZOOLY GVANG has a chance to carve his niche in the industry with his recent placement on B.o.B.'s upcoming Album. I was fortunate enough to have to chop it up with Mike few days ago and my man gave off nothing but positive vibes. Check out the interview and his latest joints below. #NoGimmicks
What's going on Brotha the name is Elevatormann over at HipHipSince1987.com. Appreciate you taking some time out to rock with us. Why dont you take a second and introduce yourself to our readers. 
MIKE FRESH: My name is Mike Fresh aka Miguel Fresco. I'm an artist and songwriter out of Atlanta. I'm also a member of the ZOOLY GVNG.
I 100% enjoy your new single "Im Tired" Ft. Que. You did your thing and the production from Fki is bananas as expected. Is this a promotional single or will it be part of a complete project?
MIKE FRESH: This is the second official single off of the ZOOLY GVNG mixtape dropping Black Friday (11/29/13) on LiveMixtapes.com. Every artist in the GVNG will have a solo song on the project & this is mine.
Would you like to elaborate on #ZOOLYGVANG and #FiveStarMusic …
MIKE FRESH: ZOOLY GVNG is a collective of artists producers and writers consisting of myself, Zuse, FKi (1st & Rich), and Natasha Mosley. We're all a family and share a crazy chemistry in the studio. We all look out for one another. It's all love. As for Five Star Music, that's my own personal company I started when I was 16 that houses my talents as an artist and songwriter. It's also home to a couple producers that I work with frequently on my own solo projects. I've been building that brand for a while now. It's my baby.  
I have a lot of ears in the industry that are always giving leads on what's the next big story. That being said a credible source filled me in on your placement on B.o.B upcoming album and claimed you to be the nextup out of ATL. What do you take from that?
MIKE FRESH: It's a blessing man. It's been a long year of work. I learned a lot this year about the game and produced more music than I ever have in my career. To end the year off with a big placement like this is amazing. Shout out to FKi, Big Zar, Defient Ent. and B.o.B for making that move possible. I'm looking forward to a big year next year for me and my team and a lot of hits! We got next!
Since I started the Who Got Next interviews I have always given the artist a platform to speak on any subject, music or non music related. So you have the floor man, speak to the people.
MIKE FRESH: I'd just like to tell everyone out there trying to achieve something to keep working hard for your dreams. I graduated college and went right into my passion full time and never looked back. We only have one life and I plan on spending as much of it as I can doing exactly what I want to do.
Aside from the placement on B.o.B. project. Which release in Dec. yall!!! What can the people expect from Mike Fresh? cooking up feat. with any other artist?
MIKE FRESH: I've been doing some work with Flo Rida, Tinie Tempah, my homie Que, of course the GVNG and a bunch of new producers. Following the ZOOLY GVNG project I'll be releasing my solo project, FRESCO. It's going to be my best work as of yet so I'm excited about that.
Again thanks for hanging out with the HHS1987 family. Before you shake the spot let everyone know where they can find you on the net. Signing out #NoGimmicks  

MIKE FRESH: Hit me on Twitter @MikeFresh or on Instagram @MikeFresh5Star. My new website MikeFreshOnline.com is under construction and will launch later this year.
© 2013, @BWyche. All rights reserved.