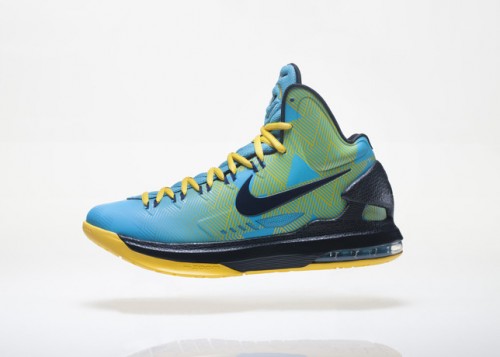 Kevin Durant is set to drop the Nike Zoom V N7 a tribute to the Native American culture. Check out more info in the KD V N7 from Nike.com. The Nike Zoom KD V N7 will be released April 13, 2013. "Kevin Durant will debut a new N7 version of his signature Nike Zoom KDV on April 11. N7 is Nike's commitment to bring sport and all its benefits to Native American and Aboriginal communities in North America, with a focus on youth. The Nike Zoom KDV N7 features a turquoise upper and an all-over, yellow fade print inspired by modern Native art. Turquoise is used often as a color symbolic of friendship in many Native communities, and yellow is one of four colors—yellow, red, black and white—featured on the traditional Native America medicine wheel, representing movement and the four directions. The KD logo appears on the right shoe and the N7 logo is on the left.
"Playing in Oklahoma City has connected me to the mission of Nike N7 and the meaningful impact that it has with Native Americans here and across North America," said Durant. "The new N7 KDV is very special—I believe in the power of sport to change lives and I support helping youth in Native American communities experience the positive benefits of being physically active."
This is the second year Durant has shown his support for N7 by collaborating with Nike's basketball and N7 teams to design a special version of the Nike Zoom KD. Included with the shoe is a N7 KD T-shirt, featuring a unique KD graphic. The graphic is inspired by Native American art and the dynamic characteristics of Durant's game. Nike N7 will host a workout event for local youth from the Oklahoma Indian Clinic and Chickasaw Nation on April 12 at a location that will be shared with attendees via @NikeN7. '"Foot Locker is thrilled to support the N7 Collection," said Foot Locker CEO Ken Hicks, who represents the long-time Nike retail partnership and is also a Citizen of the Cherokee Nation in Oklahoma. "We look forward to future opportunities to deepen our commitment to the N7 Fund and the powerful work it's doing to bring sports and physical activity to Native youth." The Summer 2013 N7 collection will be widely available beginning April 13 at select Nike retail locations, on nikestore.com, and for the first time at select Foot Locker locations across the United States and Canada and on Footlocker.com." Via Nike.com
© 2013, Eldorado2452. All rights reserved.