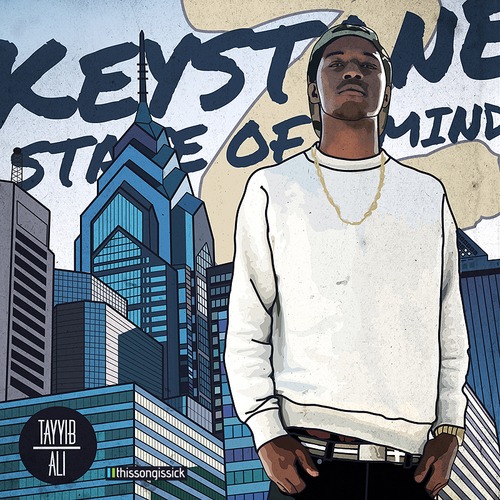 Philly's own Tayyib Ali releases his Keystone State of Mind 2 mixtape sponsored by This Song Is Sick. This is a follow up to his 2011 mixtape, Keystone State of Mind. Production on this mix tape comes from Statik Salektah, 2Astronauts, 6ix, Teddy Roxpin & many more. He is definitely one of Philly's most slept on artist within Philly. That doesn't stop Tayyib because he has headlined his own tours as well as toured with Wiz Khalifa's on one of his most recent tours.
01. We Got It (Prod. by Vokab)
02. Tomorrow (Prod. by 2Astronauts)
03. One Life (Prod. by Statik Salektah)
04. Shit I Know (feat. Rockie Fresh) (Prod. by Jahlil Beats)
05. Dear Lord (Prod. by Jahlil Beats)
06. Room 215 (Prod. by Chuck Strangers)
07. Make It Stack (Prod. by B-Free)
08. Nobody Else (Prod. 2Astronauts)
09. Power Button (Prod. by DJ Grumble)
10. Gone (Prod. by SXMPLELIFE)
11. Without A Place (Prod. by Ante)
12. Key To The City (Prod. by 2Astronauts)
13. Kush Krumbs (Prod. by Matthaus Beatz)
14. Piloto (Prod. by DJ Grumble)
15. This High (Prod. by Teddy Roxpin)
16. On My Own (Prod. by 6ix)
17. Like I Used To (Prod. by 2Astronauts)
18. Everything I Got (Prod. by Roc & Mayne)
DOWNLOAD: Tayyib Ali – Keystone State Of Mind 2 (Mixtape)
Follow Tayyib Ali through Twitter and Facebook
© 2013, @BWyche. All rights reserved.