2013 Orlando Summer League Superstars
NBA Rookies & D-League Players Putting on a Good Show in Summer League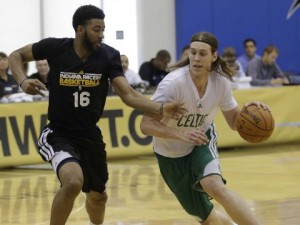 The Summer League has been a staple to hold over basketball fans from NBA Finals to preseason since 2004. There weren't many teams starting out but the Summer League hype was heightened after the NBA attached their name to it in 2007. The excitement elevated even more when the NBA Summer League expanded to 22 teams in 2008.
This year, NBA Summer League has decided to make things more interesting. For the first time, there will be a point system and championship game. The Orlando games have been fun to watch so far. Considering there are only 10 teams playing at this point, the play has been super physical. You can tell guys are living up to their potential and their skills from college will transfer to the NBA well.
If you have been watching, you've seen some pretty interesting story lines arise: Jason Kidd and his first coaching experiences, Oklahoma City Thunder's Reggie Jackson setting a Summer League record scoring 35 points in a game, and dominance of Celtics rookie Kelly Olynyk.
If you haven't been watching I've got you covered.
Each Summer League team has different needs to fill during this offseason. Some players have been killing the game in Orlando. Here's a list, in no particular order, of guys that stand out on each team.
Oklahoma City Thunder – SG Jeremy Lamb & PG Dwight Buycks
These two players are truly the future of the Thunder franchise. With Kevin Martin gone, Jeremy Lamb has got to step it up in order to help the Thunder move forward. He was three points shy of teammate Reggie Jackson's Summer League record of 35 points in a game. Lamb's sharp shooting is going to land him a starting spot next to Durant and Westbrook!
Dwight Buycks came out of nowhere with his aggressive yet smart basketball IQ. Buycks has been overseas for the past two years but now he's fighting for Russell Westbrook's backup position.
Boston Celtics – C Kelly Olynyk
One of my personal favorites during the summer league is rookie Olynyk. He's definitely going to be the face of franchise next to Rondo and he deserves it. Olynyk has recorded 19.5 PPG, 8.0 RPG, and 2.2 SPG. He's an all-around player and leads all rookies in PPG as a center!
Utah Jazz – SG Alec Burks
When Trey Burke was drafted everyone thought he would take over. He isn't really living up to the superstar everyone thought he would be but that's great for Alec Burks. Burks was drafted 11th overall in 2011. He hasn't played a significant role behind Randy Foye. Now, Foye is no longer on the team and Burks is showing he deserves the starting spot. He's a great free throw shooter and he's got the ability to navigate the court.
Philadelphia Sixers – Michael Carter Williams
We already knew MCW was going to take on a major role with the team considering all the gutting the Sixers have been doing. In his first performance as a rookie, he recorded 26 points! You could say he's skinny but he's smart and he isn't selfish with the ball; leading the team with 6.7 APG. Of course he's nervous, the weight of this team is on his shoulders. Especially, without a head coach, MCW is in need of that leader above him to mold him like Jim Boeheim did at Syracuse.
Brooklyn Nets – Tyshawn Taylor
The former Kansas Jayhawk was drafted late in 2012. He has spent most of his time on the bench and in the D-League playing for the Springfield Armor. He has the chance to make a bigger impression on the Nets; he's jumping all over it. Taylor is averaging 17. 3 PPG and 2.0 SPG. He had a game high of 12 points with the Nets in a win against the Indiana Pacers. His basketball IQ has grown, he's making smarter plays and his speed has helped him move the ball. He could move past C.J. Watson to jump in behind Deron Williams before the turn of the new year.
Miami Heat – PG Ian Clark
The Miami Heat youngsters finish Day 5 with a 2-2 record. In their lost to the Pistons, PG Clark scored 15 points just shy of his 16.3 PPG average. He's not the only one shining however he's taking a bulk of the minutes. No doubt Clark has growing to do, but hey, he can throw some rebounds up too! Hint* If you don't see him much it's because the Heat is full of superstars.
Houston Rockets – PF Terrence Jones
James Harden, Jeremy Lin, and now Dwight Howard are a hell of a lineup. If Terrence Jones, drafted 18th overall in 2012, were put in a backup position for Harden or Parsons it would be an essential addition. The former Kentucky Wildcat standing at 6-foot-9 has recorded 15.7 PPG and even 1.7 BPG! He's been one of the toughest competitors to face this year. Houston has won all of their games going into Day 5.
Indiana Pacers – C Miles Plumlee & SF Solomon Hill
The older Plumlee brother, drafted 26th overall in 2012, has taken a backseat while younger brother Mason, now a Brooklyn Net, has been shining in Division I. This year is going to be Miles' year. The young Pacers team proved to basketball fans during the season they aren't to be underestimated. Losing in the Eastern Conference Finals against the World Champion Miami Heat taught them to never lose confidence. With 10.3 RPG and 1.7 SPG during the Summer League, Miles confidence is sky-high.
Solomon Hill is a smart player and super bright guy. Hailing from Arizona Wildcats, Hill plays with intelligence. He's leading the Pacers with 14.5 PPG and 3.0 APG. He had his highest performance against the Sixers scoring a team high of 22 points.
Detroit Pistons – C Andre Drummond
Drummond isn't a rookie but he is the lead for this Pistons team. Now, the 9th overall pick in 2012's draft has pieces around him to rebuild the Pistons franchise. He's leading almost every category in the Summer League with 12.0 PPG, 13.5 RPG, 3.0 BPG, and 3.0SPG. The addition of former ATL Hawk, Josh Smith, with Drummond in the post could pose an unexpected threat for the upcoming season.
Orlando Magic – PF Romero Osby & SG Victor Oladipo
This rookie duo, if they both start, will be fire. There's no doubt Oladipo will start since he's proven he can play the 1 and the 2 with ease.
Aside from him, Osby from Oklahoma Sooners is going to rep Big 12 basketball well. His first game he recorded 18 points along with Oladipo. Osby's intimidating post presence is going to help the Magic move up from the No. 12 ranking in defense.
Photo Credit: http://www.businessinsider.com/are-these-the-next-nba-teams-to-wear-sleeved-jerseys-2013-7
© 2013, @BWyche. All rights reserved.