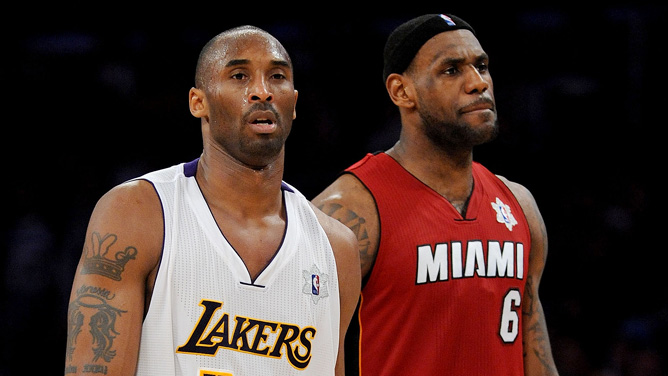 Well ladies and gentleman the race for the 2014 NBA Free agency period has begun and we haven't even began the 2013-14 NBA season. With the free agency class in 2014 including the likes of Lebron James and Carmelo Anthony teams are already looking to see how they can land one of these top free agents. Recently Los Angeles Lakers guard Kobe Bryant was asked about the likelihood King James will play in a Lakers uniform next season. Check out what the Black Mamba has to say via Lakers Nation:
" Kobe said at his basketball camp at UC Santa Barbara. 'You don't want to help someone else kind of increase their ring count, but he's already increased Dwyane's, so I don't think it's that big of a stretch.' Kobe, of course, said he couldn't speculate on what LeBron would do in 2014, but it sounds like the rumors that Los Angeles is a serious potential landing spot for LeBron, aren't all that far off. The Lakers, though, would need to leave plenty of cap space for that to happen, and Kobe at least for now, isn't prepared to take any dramatic pay cuts. And, LeBron hasn't given any inclination that he's even thought about being a free agent in the summer of 2014." 
© 2013, Eldorado2452. All rights reserved.