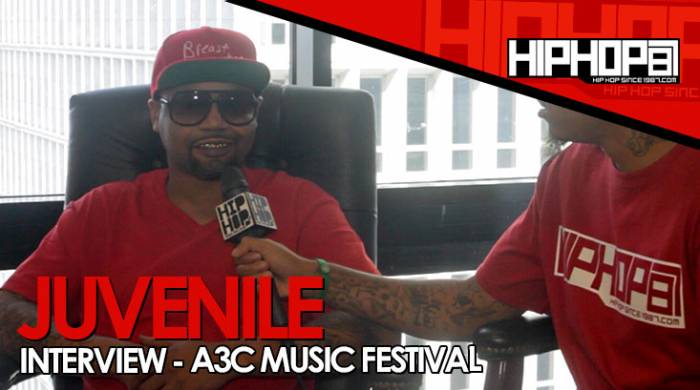 Recently during the 2014 A3C festival, HHS1987 linked with former Hot Boy and hip-hop artist Juvenile in a private BET suite to discuss his new music, grooming his son as a hip-hop artist in today's market, the importance of A3C and more.
Juvenile spoke with us about his performance during BET's A3C Music Matter stage. After informing us that he was looking to shut the stage down and give fans what they came to see, Juvenile explained how his music has stayed relevant over the years. Although many of Juvenile's hits originally where released in the late 90's and early 2000's, Juvenile's music is still playing in the clubs and on many radio stations still to date. Juve explained the importance of making timeless music and how that has helped his career.
Juvenile also spoke with us about the importance of up and coming artist coming to events like A3C. Juve explained that the game is 90 percent business and 10 percent talent. Conferences like A3C allow artist to showcase their talent and make connects. Juve let us know that understanding the business of music will take artist a long way.
Before concluding our interview, Juve spoke on what he has planned in the future. Recently Juve linked with a fellow New Orleans artist named Young Greatness and featured on Young Greatness' single "Buku". Juve spoke on how the two New Orleans artist got together and give us some insight on the hip-hop scene in Louisiana. Juve also informed us on his upcoming project and how his has groomed his son Young Juve for the rap game. Juvenile assured us that he has a dope new project on the way and although he wouldn't say who it is with, maybe we'll be seeing Juve added to the Rich Gang movement sooner than later.
The interview was conducted by HHS1987's Eldorado. The interview was shot by HHS1987's Brian Da Director.
Follow On Twitter/ Instagram:
@JuvieTheGreat
@Eldorado2452
@Hiphopsince1987
@BrianDaDirector
© 2014, Eldorado2452. All rights reserved.