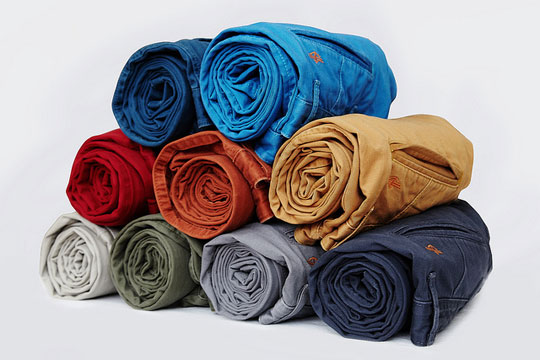 Last month, a package containing two pairs of Dockers: Alpha Khaki Pants showed up on my door step. Intrigued about exactly what and who sent me something from Levi Strauss & Co.'s New York City office, I quickly opened up the box to be pleasantly acquainted with what to me was a foreign cross between jeans and dress pants. Grabbing the shipping label I saw a name that I wasn't familiar with at all. Once I removed all the content out of the box, a business card slowly drifted to the ground as if it knew the question of my inner thoughts needed to be answered. As soon as I read the name across the card I remembered from who and why I was receiving these items; it was so I can write the article that your reading now.
Among initial inspection I realized that I had two different cuts of khaki's. The first cut was a Original Slim style in a the forever popular black colorway. Just one day after I hearing The Fed-Ex delivery truck pull up to my address, I got to put them to use. My boy had graduated from college earlier that day and we where stepping out on the town that night. Complimenting my black Banana Republic dress shirt and my Clarks dress shoes was, yeah you guessed it, my Original Slim fit Dockers. Once the zipper was secure I stuck my hands in the pockets and realized I was now wearing my favorite pair of pants to date. They seemed to be tailored just for me, not too tight,not too baggy, not too long and most importantly not too short. Before the night was over the amount of admiration and praise I was receiving for my outfit was unbelievable, to the point where it was overwhelming.
Though I haven't had the opportunity to try out the second cut, which was the Standard Tapered fit, their is not doubt in my mind that those or the Skinny fit would do me justice all the same. Whether your looking to look sharp for a job interview or casual to grab a quick beer at the bar the Docker: Alpha Khaki Pants are the perfect choice. Pick up a pair after the jump!
SHOP | HERE.
Special thanks to Anna Fursoff @ Dockers!
© 2014, @quinelleholder. All rights reserved.