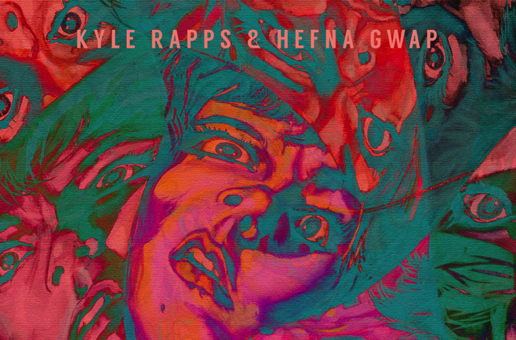 The East Coast and the West Coast: two sides that faced a perpetuated battle fueled largely in part by the media. In the '90s, there was no escaping the assault of the genre's polar opposites. Diss tracks were made, and shots were unfortunately fired, but now that cooler heads have prevailed, our geographical differences have spawned more artistic collaborations in the past decade and change, than rivalries. Fusing both coasts, the Harlem by way of  New Jeru wordsmith, Kyle Rapps,teams up with theEast Palo Alto emcee, Hefna Gwap, for the release of their debut effort, European Tic Tacs.
A constantly shifting eight track au-gratis EP, sponsored by NY streetwear giants Mishka, ETT blends the lyrical eccentricity of Rapps, with the free flowing rhyme schemes of Gwap, giving us a look into the minds of these rather esoteric artists. Several of the artists repped by Mishka, including Vulkan the Krusader, Aaron Cohen, and his Inner City Kids cohorts, find themselves dispensing bars and hooks over an eclectic array of production that ranges from punchy snares and jazzy horns, to a bevy of lush and atmospheric soundscapes. In terms of lyrical aptitude, the duo cease to fall flat; their emphasis of implanting obscure images in your head, makes this project worth repeating again and again. If you've gone this far without hitting that play button, you're doing yourself a disservice–take two listens of European Tic Tacs, and call us in the morning.
01. Blue Pork (Who Ridin) [prod. by Vulkan the Krusader]
02. Hold Tyte (prod. by Fudge)
03. Searchin (feat. Aaron Cohen) [prod. by Fudge]
04. Trouble (Bitch) [pro. by Jg Zv BlueDot]
05. Wilin (feat. Spaceman) [prod. by DJ Frank Dux]
06. Thirsty Ass (feat. Abgohard) [prod. by QuelleLOL_N4G)
07. Wee Hye (feat. Inner City Kids) [prod. by EPMDenny]
08. Shooted (prod. by Lord Plawz)
© 2014, Eldorado2452. All rights reserved.